In 2015, there were globally 604 million people over 65s, with half in Asia.  And they will reach 830 million by 2030. This ageing population can be divided into 3 groups:
– Healthy ageing people, who desires to maintain mobility and independence
– Sufferers of sarcopenia
– Seniors hospitalised, post operation and exercise compromised
Sarcopenia is a chronic disease that afflicts 30% of the population over the age of 60 and 50% over the age of 80. It is defined as the age-associated loss of skeletal muscle mass and function, sometimes also seen in conjunction with increased fat mass. The current level of sufferers today is approximately 50 million sufferers and is expected to increase to 200 million over the next 40 years.
Around 40% of muscle loss occurs between the ages of 20 and 60, the highest losses being due to  sedentary. The causes of sarcopenia are complex and can include physical inactivity, changes in anabolic hormones, chronic disease, inflammation, insulin resistance and nutritional deficiencies such as inadequate calorie and protein intake (Fielding et al., 2011).
The challenge is to provide nutritional solutions that deliver improved quality of life, increased mobility and extented period of independent living for this segment of the population. And it is necessary as the quick worldwide increase in the ageing population worldwide means that sarcopenia and its related healthcare costs will remain a serious public health issue for years to come.
Euromonitor 2014, USDEC 2014
Protein range for Clinical Nutrition
| | | | | | |
| --- | --- | --- | --- | --- | --- |
| Product | Description | Protein content (%)* | Lactose content (%) | Characteristics | Applications |
| Pronativ® 80 | Native whey protein (regular, instant) | min. 80 | max. 17 | Fast absorption protein, high level of Leucine | Beverages |
| Pronativ® 95 | Native whey protein (regular, instant) | min. 95 | max. 3 | Fast absorption protein, high level of Leucine | Beverages |
| WPC80 | Whey protein concentrate (regular, instant) | min. 80 | max. 10 | Fast absorption protein, texturising properties | Beverages |
| WPI | Whey protein isolate (regular, instant) | min. 90 | max. 5 | Fast absorption protein, clean dairy taste | Beverages |
*On dry matter
These values are typical.
Balanced nutrition and a program of muscular strength training adapted to elderly people can help prevent sarcopenia. An adapted nutrition must also take into account that elderly people tend to have a smaller appetite and that there is often a higher protein retention in the gastrointestinal tract.
Scientific studies have shown that native whey protein Pronativ® improves muscle functions in the elderly: while bringing a moderate quantity of proteins to elderly people, it guarantees the necessary amount of Leucine to stimulate muscular synthesis.
Native whey protein Pronativ®
A scientifically proven efficiency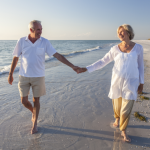 Pronativ® is a native whey protein directly extracted from milk with a unique composition.
Pronativ® is manufactured in France and in the USA.

Thanks to a mild process, Pronativ® is protected from heat denaturation and offers excellent biological properties:
High leucine and BCAA content
Neutral taste
Excellent microbiological quality
Constant quality protein
Glycomacropeptide free
Clinical studies have shown that Pronativ® improves MUSCLE FUNCTIONS in the ELDERLY by:
» Stimulating muscle protein synthesis
» Enhancing muscle resistance
» Increasing muscle efficiency
» Improving muscle quality
Different qualities are available for the clinical nutrition:
• Low lactose: ensuring high digestibility and good tolerability
• Instant: good rehydration properties especially adapted to beverages
• Vegetarian, Kosher and Halal certifications