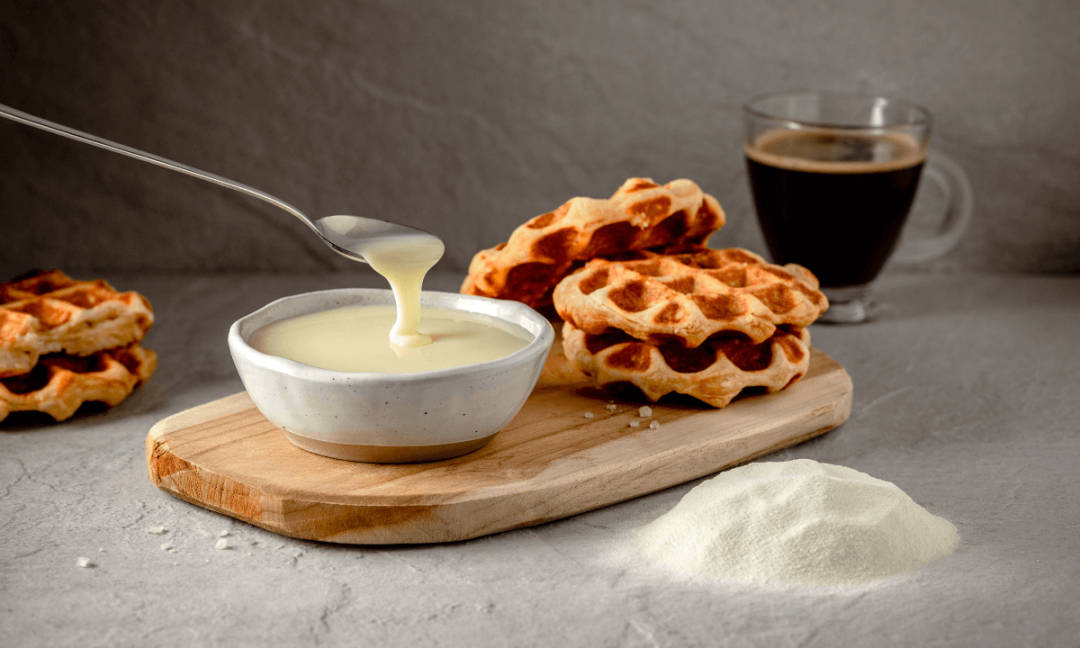 HHHS milk powder for condensed milk
A smooth, homogeneous texture that is consistent over time… These are the criteria that evaporated milk manufacturers are looking for. These essential characteristics are not always easy to achieve when using milk powder rather than liquid milk. How can HHHS (high heat, heat stable) milk powder be used in condensed milk to meet these challenges?
Milk powders: essential for some evaporated milk manufacturers
Condensed milk refers to two main product categories: unsweetened condensed milk, also known as evaporated milk and sweetened condensed milk. These two categories are regulated by CODEX STAN 281-1971 for unsweetened condensed milk and CODEX STAN 282-1971 for sweetened condensed milk. The minimum milk solids content for these products is 20 and 24% respectively (for skimmed condensed milk).
some manufacturers have to use milk powders in place of liquid milk to remedy this shortage
World consumption of these products (sweetened or unsweetened) continues to increase and is growing at an average rate of 2% a year, primarily in Latin America and the Middle East, but also in Asia [1]. In these regions, where there is a shortage of liquid milk, some manufacturers have to use milk powders in place of liquid milk to remedy this shortage.
The processes for obtaining these two categories of products are different in the sense that the addition of sugar makes it possible to significantly improve shelf life (by reducing water activity), without the need for sterilisation or UHT treatment, which is essential in the case of unsweetened condensed milk. The characteristics of the milk powder used must therefore be adapted to the limitations of the end products.
How to choose the most suitable milk powder when formulating condensed milk?
Not all milk powders on the market are suitable for condensed milk. Many problems can be avoided (not least in the case of products undergoing extensive sterilisation in an autoclave) by choosing a milk powder that is suitable for formulating and producing such products. In many cases, high heat milk powder is not adequate for these applications.
Not all milk powders on the market are suitable for condensed milk
The effect of the high temperatures associated with autoclave or UHT sterilisation treatments on preparations means that HHHS (High Heat, Heat-Stable) milk powders are essential to avoid protein coagulation and production issues. Furthermore, evaporated milk in cans (the most widely used packaging in these markets) requires a perfect bacteriological quality to avoid the presence of aerobic and anaerobic spores and possible changes within the packaging when stored.
Why use Lactalis Ingredients HHHS milk powder to formulate condensed milk?
Lactalis Ingredients has gained expertise in the selection of high-quality milk and in the process of manufacturing HHHS milk powders.
The level of heat treatment is assessed by measuring the WPNI (Whey Protein Nitrogen Index) which must be well below 1.5 for HH or HHHS powders.
The quality of the milk collected in an area close to the factory and the speed at which it is processed are important elements for the powders on offer, which are obtained by drying fresh pasteurised skimmed milk that undergoes a specific heat treatment. The purpose of this heat treatment is to denature the protein to obtain a heat-stable powder and prevent the protein from coagulating during the subsequent production of condensed milk. The resulting powders are highly soluble and heat stable; about 20 minutes at very high temperatures (120°C to 140°C), without losing any of the good dairy flavour.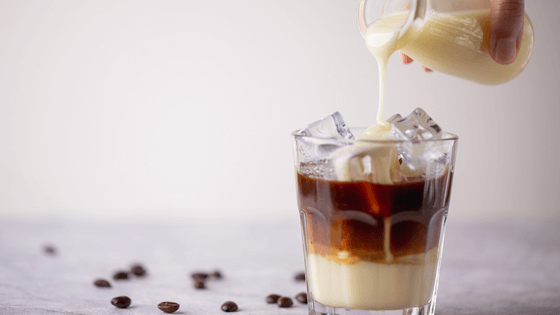 With support from its team of technical experts, Lactalis Ingredients' HHHS skimmed milk powder has been assessed in sweetened and unsweetened condensed milk applications on industrial pilots and in a range of technical conditions, as similar as possible to those of its clients. This HHHS milk powder meets all the requirements for evaporated milk manufacturing processes thanks to perfect upstream management (fresh liquid milk, permeate or lactose resources) and drying parameters.  These powders can also be used in all productions requiring significant protein denaturation, such as creamers or sauces, for example.
Please note that the HHHS milk powder is certified Kosher and Halal and comes from our German site in Ravensburg.
Our team of technical experts is on hand to assess your needs and assist you in developing your products.
Sources:
[1] Global Data CAGR 2017-2021
Share on LinkedIn