Our butters are made from selected cream in order to guarantee a stable and fine quality. Our range is obtained from creams which are carefully controlled and physically transformed and fits many uses and applications.
Characteristics
Soft and creamy taste with no off notes
Regular texture
Made from fresh cream
Various hardnesses
---
Benefits
Provides dairy and buttery taste
Enhances flavour
Easy to incorporate and to handle
Possible claim: with butter – or pure butter
---
Our product range
• From standard quality to texturised and consistent butter
• Possibility to deliver at different temperatures: positive or frozen
• Coloured or not coloured
• Sweet or sour cream butter
• With cardboard or no cardboard boxes
BUTTER 82 VN
A consistent and premium texturised butter 82%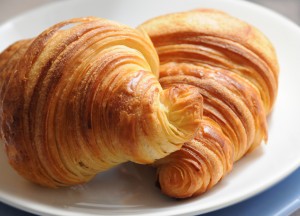 Butter 82 VN is a premium texturised butter with a consistent quality, especially designed for puff pastries and other laminating processes.

Developed to remain stable in the high pressure conditions of the pastry process (extrusion, dough lamination), Butter 82 VN has a cohesive and homogeneous texture. To garantee a product quality well adapted to the laminated process, a precise monitoring based on different controls has been set up after each production batch to evaluate texture, aspect, plasticity and resistance.
Butter 82 VN is ideal for a well aerated and crunchy layering.
A CONSISTENT TEXTURISED BUTTER for puff pastries:

Cohesive
Homogeneous
No water release
Regular texture
Consistent
Dedicated butters references for specific applications: