Chocolate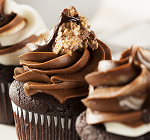 Dairy products are major ingredients for milk and white chocolate.
Our costumers want to have a better control of rheological parameters and taste while optimising conching time and costs globally.
Key benefits
Consistency and viscosity
Yield stress
Conching time
Chocolate taste improvement
Recipe costs reduction
Our wide range of products includes references dedicated to the specific needs of  production:
Whole milk powder for a strong dairy taste
Skimmed milk powder with optimised particle size and density for a smooth texture
Concentrated butter with a high melting point to prevent from fat blooming
Lactose, whey powders and whey permeate as a competitive source of dairy solids
---
Confectionery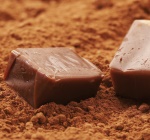 Dairy ingredients are used to produce toffee, fudge, nougat and candy.
Key benefits
 Flavours enhancement
Texture optimisation
Creamy mouthfeel
Fat blooming inhibition
Viscosity reduction
Melting delay optimisation
Click below for more information on specific ingredients :