Whey and milk ingredients for the food industries worldwide
As one of the largest dairy ingredients producers and global supplier, we provide a complete range of high quality products, from whey & milk powders to specialised milk proteins, industrial butters and cheese ingredients for the food and beverage industries.
Lactalis Ingredients offers a wide range of ingredients, that can be tailored to meet your business needs. We can provide you with the best solution in terms of functionality and quality as well as bacteriological and organoleptic criteria to meet the needs of your consumers.
We always work to adapt our ingredients offer to the diverse needs of individual markets and customers. Finding the right solution for each food or nutritional application is our main concern.
Optimal conditioning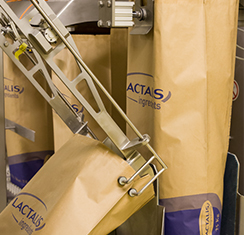 Thanks to our new gas-flushing system, we improve the overall quality and shelf life of our ingredients.
Lactalis Ingredients whole milk powder is now packed under a protective atmosphere to preserve its taste and quality.
Preserved taste
Longer shelf life
Easy-opening system
100% natural
Categories
Whey powders are natural dairy ingredients coming from cheese manufacturing. Each ingredient has many different functional properties that lends it naturally to multiple applications as food ingredients.

A wide range of dairy powders answering specific applications requirements in terms of functionality and quality as well as bacteriological and organoleptic criteria.

Proteins and minerals are manufactured either from whey or milk and can be used for their functional or nutritional properties.

Our butters and concentrated butters are made from selected dairy cream in order to guarantee a stable and fine quality. Obtained from creams which are carefully controlled and physically transformed, our range can fit many uses and applications.

As part of Lactalis group, the biggest cheese producer in the world, we can provide a range of cheeses for industrial uses.