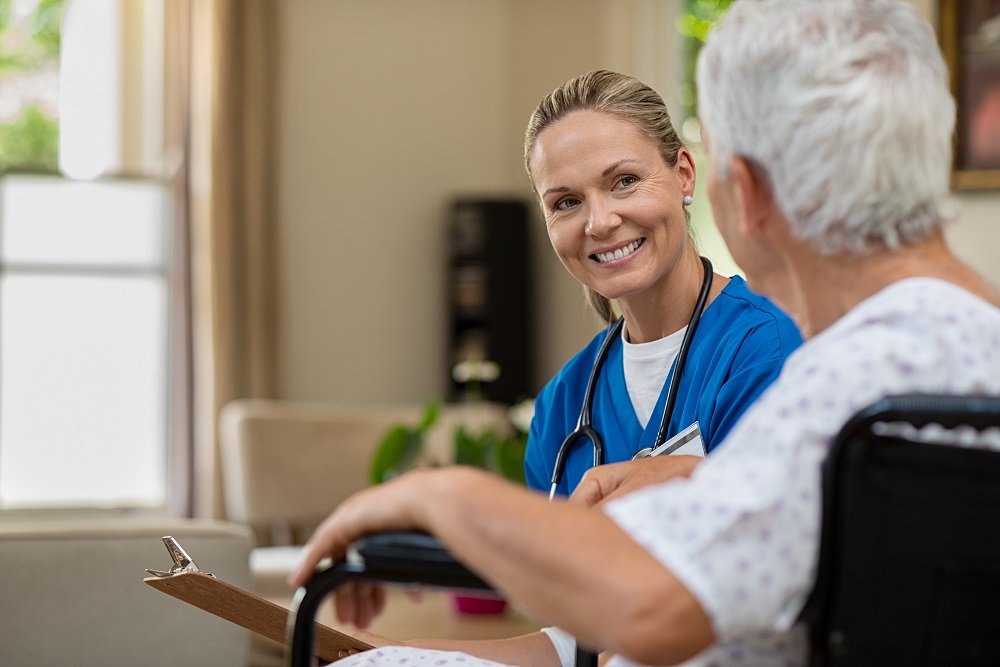 What nutritional management for COVID-19 patients?
It can be a long road to recovery after hospitalization for the novel coronavirus. After being on life support, the convalescence period can sometimes be several months or even a year. Nutrition has a serious impact on recovery time and the ability a person will have to resume normal activities. Proteins play a significant role in the recovery process since they are essential to maintain muscle mass and avoid metabolic disorders.
The impact of hospitalization on the nutritional status of COVID-19 patients
Every patient with COVID-19 is at risk of undernutrition. This is especially true if a patient has a chronic disease (such as obesity, type II diabetes, cancer, etc.) and/or is old and therefore already likely to be undernourished.
Respiratory infection with COVID-19 leads to protein hypercatabolism, immobilization and an increase in energy expenditure. This in turn causes muscular atrophy. The treatment of severe cases of COVID-19 calls for acute interventions such as mechanical ventilation, sedation and/or prolonged bed rest. These types of treatment can result in problems with motor, respiratory, cognitive, swallowing and mental health functions. These symptoms are known as "post-intensive care syndrome (PICS)" [1]. However, patients who have recovered from severe COVID-19 without going through an intensive care unit may also have some of these symptoms.
Proteins play a significant role in the recovery process since they are essential to maintain muscle mass and avoid metabolic disorders.
The prevention, diagnosis and treatment of malnutrition therefore have to be systematically included in the management of COVID-19 patients. After a severe form of the novel coronavirus, it is important to start with an assessment of the patient's nutritional status. The doctor must look for undernutrition by identifying weight loss or reduced food intake and calculating the BMI. He or she will also assess swallowing disorders and, wherever possible, favor oral feeding.
Nutritional management of COVID-19 patients
The nutritional management strategy for subjects suffering from COVID-19 is detailed by the European Society for Clinical Nutrition and Metabolism (ESPEN) in 10 practical recommendations (cf. Figure 1) [2].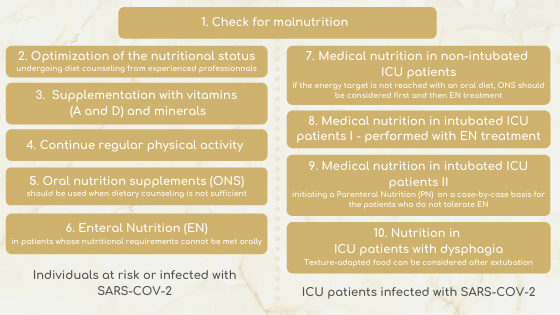 Fig. 1: Nutritional management in people at risk of severe COVID-19, in subjects suffering from COVID-19 and in patients in COVID-19 intensive care units requiring ventilation [2].
The role of nutrition in post COVID-19 recovery
Nutrition management during recovery depends on a proper assessment of the patient's nutritional status. The more undernourished a patient is the more important this becomes. The goal is to increase calorie and protein intake through food, if necessary using oral nutritional supplements (ONS).
If the patient does not have too much difficulty taking food by mouth, the diet may be enriched and adapted to the patient's tastes, and textures can be specifically adjusted to deal with any chewing or swallowing problems. There can also be recourse to ONS.
In the event of food intake disorders or severe undernutrition, enteral/parenteral nutrition is continued as long as oral intake fails to reach 70% of the calorie and protein targets.
Nutritional care is reassessed at least once a week. This should also be accompanied by physical exercise to promote muscle mass gain [3].
The role of proteins in recovery
Adequate intake of energy and protein are key to the nutritional management strategy for COVID-19 patients in order to prevent severe loss of muscle mass and muscle function.
To meet these increased calorie and protein needs and thus prevent sarcopenia, dietary protein intake needs to be higher than usual. For this reason, the American Society for Enteral and Parenteral Nutrition (ASPEN) recommends a daily intake of 2000 to 2500 calories and 75g to 100g of protein for COVID-19 patients. This objective can be attained by consuming nutritionally dense foods and drinks and taking oral nutritional supplements between meals [4].
While quantity matters, so also does the quality of the proteins. Fast proteins such as whey proteins are ideal for muscle synthesis. This is particularly true of Pronativ® – Native Whey Protein thanks to its high leucine content. Moreover, slow proteins such as Pronativ® – Native Micellar Casein – slow the breakdown of muscle [5].
Protein intake should be evenly distributed over the three meals in order to optimize muscle synthesis [6]. This nutrition management should be coupled with physical exercise.
For more information on the use of our proteins in clinical nutrition, please contact our experts.
Sources:
[1] Clinical management of severe acute respiratory infection (SARI) when COVID-19 disease is suspected) (COVID-19). WHO. May 2020.
[2] Barazzoni, Rocco; Bischoff, Stephan C; Breda, Joao; Wickramasinghe, Kremlin; Krznaric, Zeljko; Nitzan, Dorit; Pirlich, Matthias; Singer, Pierre; endorsed by the ESPEN Council. ESPEN expert statements and practical guidance for nutritional management of individuals with SARS-CoV-2 infection. Clinical Nutrition. 2020, ISSN: 0261-5614, Vol: 39, Issue: 6, Page: 1631-1638
[3] Nutrition clinique en unité post-COVID 19 et SSR. Yves Boirie, Najate Achamrah, Laurence Dussaulx & Léa Lucas-Martini. Société Francophone Nutrition Clinique et Métabolisme (SFNCM), April 2020.
[4] Nutrition and Hydration: Key Weapons in the Fight Against COVID-19, ASPEN Recommendations for Non-ICU COVID-19 Patients.
[5] Bauer J, Biolo G, Cederholm T, Cesari M, Cruz-Jentoft AJ, Morley JE, Phillips S, Sieber C, Stehle P, Teta D, Visvanathan R, Volpi E, Boirie Y. Evidence-based recommendations for optimal dietary protein intake in older people: a position paper from the PROT-AGE Study Group. J Am Med Dir Assoc. 2013 Aug;14(8):542-59. doi: 10.1016/j.jamda.2013.05.021. Epub 2013 Jul 16. PMID: 23867520.
[6] Phillips SM. Nutrition in the elderly: a recommendation for more (evenly distributed) protein? Am J Clin Nutr. 2017 Jul;106(1):12-13. doi: 10.3945/ajcn.117.159863. Epub 2017 Jun 7. PMID: 28592608.
Share on LinkedIn