Lactalis Ingredients at Fi Europe 2023: Showcasing Pronativ® – Native Micellar Casein
Nov 7 2023
Share on LinkedIn
Lactalis Ingredients, a global leader in the dairy ingredients industry, is pleased to announce its participation in Fi Europe 2023, one of the most prestigious events in the food and beverage industry. This exciting event will take place from 28 to 30 November, and Lactalis Ingredients will be showcasing its wide range of dairy solutions, including Pronativ® – Native Micellar Casein.
Fi Europe (Food Ingredients Europe) is renowned for bringing together the entire food and beverage supply chain, offering a platform for leading companies to introduce cutting-edge products and solutions to the market. With a rich history dating back to 1986, Fi Europe has consistently provided a unique networking and business opportunity for companies and professionals from around the world.
Lactalis Ingredients, a subsidiary of the Lactalis Group, is a major player in the global dairy industry, delivering high-quality dairy ingredients to the food and nutrition sectors.
Showcasing Pronativ® – Native Micellar Casein in Stay Strong High Protein Milk
At booth 3.0G80, Lactalis Ingredients will feature Stay Strong High Protein milk. This product, produced by Omira, is made possible through the incorporation of Lactalis Ingredients' native micellar casein, delivering a powerful punch of protein in a delicious and nutritious milk format. It represents a perfect marriage of taste, nutrition, and functionality, catering to the evolving demands of consumers who seek products to lead a healthy and active lifestyle.
The star ingredient that sets "Stay Strong" apart from traditional milk is Lactalis Ingredients' micellar casein. Micellar casein is a premium dairy protein known for its slow-release properties, making it ideal for muscle recovery and extended satiety. With "Stay Strong," consumers can enjoy the following key benefits:
Nutritional Benefits: "Stay Strong" feature a protein content of 5.1%, significantly higher than regular milk. With a lot of protein, little fat, vitamin D and lactose-free, this makes it a smart choice for athletes, fitness enthusiasts, and anyone looking to increase their daily protein intake.
Sustained Energy and Muscle Recovery: The micellar casein in "Stay Strong" is renowned for its slow digestion and prolonged release of amino acids. This means that consumers can experience sustained energy and muscle recovery support throughout the day and night.
Delicious Taste and Creamy Texture: "Stay Strong" is designed to not only nourish but also delight the taste buds. It maintains the rich and creamy texture of traditional milk, making it a delectable addition to various recipes or simply enjoyed on its own.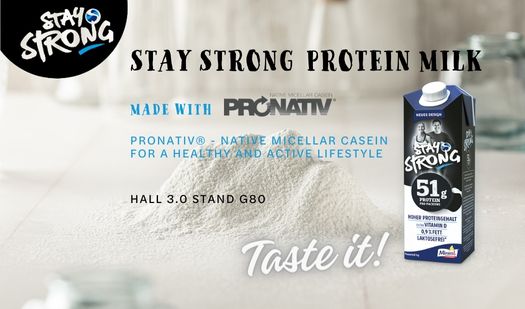 Visit Us at Fi Europe 2023 to Experience "Stay Strong"
Lactalis Ingredients invites all industry professionals, customers, and partners to visit their booth at Fi Europe 2023. The event provides an opportunity to explore the future of dairy innovation and learn how Lactalis Ingredients can be a strategic partner in developing and enhancing food and beverage products.
Lactalis Ingredients values its relationships with customers, partners, and industry peers. The company will have a team of experts on-site at Fi Europe 2023, ready to engage in discussions, answer questions, and explore potential collaborations. This event is a perfect occasion to connect with Lactalis Ingredients' team and explore future business opportunities.
Our experts will be available to provide more information on "Stay Strong" and discuss how Pronativ®- Native Micellar Casein can be incorporated into your product offerings. We look forward to your visit at Fi Europe 2023 to experience "Stay Strong" and discover the potential of micellar casein in delivering high-quality, high-protein dairy products.
Save the dates
Make sure to mark your calendars for November 28th, 29th and 30th, 2023, and join Lactalis Ingredients at booth 3.0G80 during Fi Europe. It's an opportunity to discover the future of protein innovation.
About Lactalis Ingredients
Lactalis Ingredients is a leading global supplier of high-quality dairy ingredients. As a part of the Lactalis Group, one of the largest dairy companies in the world, Lactalis Ingredients benefits from a vast network of dairy producers and processing facilities. This enables them to deliver a wide range of dairy ingredients while maintaining a commitment to the highest quality standards.
Follow Lactalis Ingredients on LinkedIn
Share on LinkedIn