Lactalis Ingredients will attend Natural Products Expo West 2023
Feb 17 2023
Share on LinkedIn
The 2023 edition of the Natural Products Expo West will take place from March 7 to March 11 in Anaheim, CA USA and will count over 3 000 exhibitors of the world. It's an opportunity for brands and suppliers of dairy ingredients to show or introduce their new products. 
MEET OUR TEAM AT THE NATURAL PRODUCTS EXPO WEST EXHIBITION FROM MARCH 7 TO 11, ANAHEIM, CA USA
Our team will be pleased to see you next to UP2U® Recover for this event at stand N2038. We will present you one of our ingredients meant for sports nutrition: Pronativ®, a pure and natural native whey protein.
.
NATURAL PRODUCTS EXPO WEST: HEALTH AT THE HEART OF THE INDUSTRY
This exhibition is an opportunity for brands to discover current trends about naturals products since health care is at the heart of the industry. Consumers are more and more looking for naturals products that responds to their functional needs.
You will be able to exchange with active nutrition professionals to find the right product that match with your expectations.
.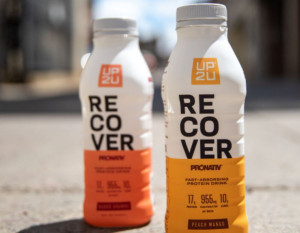 LACTALIS AND UP2U®: RESPONSES TO THE NEED OF CONSUMERS
Discover UP2U® Recover's products that are meant for sports nutrition and made with our Pronativ®-Native Whey Protein, extracted directly from milk according to a minimal process with low temperature. Our whey protein is obtained in her native form, her natural properties are preserved, and the nutritional value is intact.
Lactalis Ingredient's team will present our natural ingredient with many nutritional and functional qualities. Our aim is to respond to the needs of consumers who are looking for a natural and healthy diet without sacrificing flavor
.
PRONATIV®- NATIVE WHEY PROTEIN: A PURE AND NATURAL WHEY PROTEIN
Combining superior nutritional and functional properties, Pronativ®- Native Whey Protein is ideal to meet the unique needs of the food and beverage industry as well as those of the nutrition industry.
Pronativ®- Native Whey Protein, is a complete protein that is naturally rich in essential amino acids, including leucine, which is key in muscle synthesis. With its excellent nutritional profile, Pronativ® has been clinically proven to have superior characteristics compared to traditional whey proteins and activate muscle protein synthesis and functional benefits. This protein is also efficiently digested and is ideal to respond to the unique needs of an active lifestyle and for people who want to reach their full potential faster naturally.
UP2U® Recover offers you refreshing water-based protein drink with functional benefits. It includes the balanced ratio of protein, carbohydrates, and electrolytes optimal to ensure an effective post-workout recovery. These protein drinks are made with our Pronativ®- Native Whey Protein and contains 17g of protein. UP2U® Recover range of products offers you as well our Pronativ®- Native Whey Protein in powder form to activate muscle-protein synthesis faster with fewer calories.
For more explanation, come and meet our team at stand N2038.
Share on LinkedIn