Caseins are natural milk proteins produced by precipitation from pasteurised skimmed milk thanks to the action of rennet or acid. Once coagulated, caseins are separated from whey, purified, concentrated and dried.
With high functionalities due to their specific characteristics, caseins can be used in many different food applications from processed cheese to clinical nutrition.
Characteristics
Water binding and emulsifying properties
Natural milk protein with a high protein content
Good nutritive and functional properties
Clean labeling as milk protein
---
Benefits
Natural texture stabiliser
Enhances and preserves the stretch in pizza cheese analogue
Limits oiling off
Brings spreadability
---
Our product range
• Acid or rennet caseins
– Particle size from 30 to 90 mesh depending on the functionality required
– Suitable for different types of processed cheese
– Adapted for low temperature, pasteurised or UHT process conditions
• Kosher and halal – suitable for vegetarian use (certification available on demand) 
PREMIUM RENNET CASEIN
Premium casein for longer stretch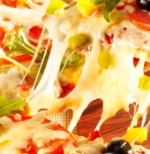 Especially suitable for pizza or prepared dishes

Meticulous milk selection and a particular process preserve the functionalities of the protein:
Good water binding properties
Stable behaviour
Neutral milky taste
Controlled spreading and fat release

KEY BENEFITS:
Optimised stretch*
Limited browning
Smooth texture
Milky taste
*Tests prove the excellent ability to develop stretch up to 80 cm even after 60 days! In comparison, standard  casein preserves its stretching properties up to 21 days only.
Dedicated references for specific applications: