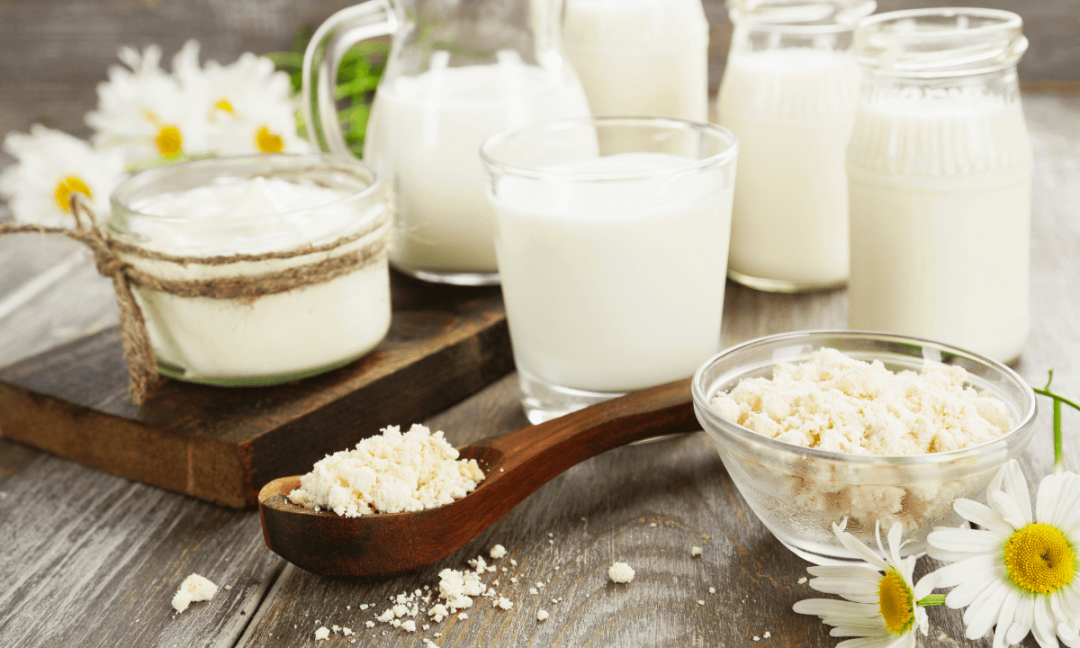 2022: An intense year for the dairy industry
The global geopolitical context of 2022 has been intense, with the return of war on European soil, a severely disrupted global economy, record inflation and sharply rising raw material prices: 2022 will be remembered for all these events, which have impacted all sectors of activity.
The dairy industry has not been spared, with collection sluggish at the start of the year then rising in September, ingredient prices reaching historic levels, and import-export markets fluctuating highly.
In this article, we look at the main events that have impacted the year 2022 and hope to anticipate and understand what lies ahead in 2023. 
Geopolitical and economic context
A war with disastrous economic consequences
After two years of disruption due to the Covid-19 epidemic and all the restrictions that were put in place, 2022 seemed at first to bring hope for a progressive return to normality. The totally unexpected invasion of Ukraine by Russia in February provoked war on European soil. In addition to the human and material losses, this war has led to a destabilization of all the world markets. In 2021, Ukraine supplied 8 % of the world's wheat, 13 % of its corn and 47 % of its sunflower oil [1]. The grain harvest was diminished by 40 % in 2022 [1]. Combined with the transportation and export difficulties, this poor harvest greatly reduced the global availability of raw materials, leading to a significant increase in prices. Russia is considered to be the second largest global gas producer [2] and third largest oil producer [3]. The country reduced exports of these two products in 2022, causing a jump in the price of these energies and significant shortages in availability. Europe, which was 40 % dependent on Russian gas before the war, suffered acutely from the cuts caused by Russia in a context of soaring prices. The consequences of this disruption of the energy market are multiple and inevitably impact many markets, such as fertilizers, for example, causing a sharp increase in the price of these products.
Global economy undermined
"The global economy is reeling from the largest energy crisis since the 1970s", explains Alvaro Santos Pereira, an economist at the OECD. "The energy shock has pushed up inflation to levels not seen for many decades and is lowering economic growth all around the world". Average global inflation for 2022, driven by high energy prices, is estimated at +8 % by the OCDE [4] and +8.8 % by the IMF [5].
This average conceals a real disparity among different nations, however. The IMF indicated in its forecast that less than 40 countries and territories will have managed to keep price increases below 5 % in 2022. More than 90 are expected to register an average inflation rate of between 5 % and 10 % (including France at 6 %), while some 60 others will exceed the 10 % mark. Among the hardest hit countries are Zimbabwe, Venezuela, Sudan, Turkey and Argentina, with forecasts predicting an average increase in consumer prices ranging from 70 % to 285 % [5].
At the end of October 2022, 34 % of French people surveyed declared that they had purchased more private labels (distributor brands) during the preceding six months [6]
Consumers have been hit hard by rising prices and are watching their purchasing power decline month by month. The result of this is that they turn to lower cost mass consumer products or reduce their purchase volume. YouGov France, an international polling and market research company, indicated at the end of October 2022 that 34 % of French people surveyed declared that they had purchased more private labels (distributor brands) during the preceding six months [6].
Unprecedented dairy market situation
Milk collection suffering
With exploding production costs (animal feed, fertilizers, etc.), environmental regulations and extreme weather conditions, 2022 global milk collection will remain remarkable for its lack of dynamism.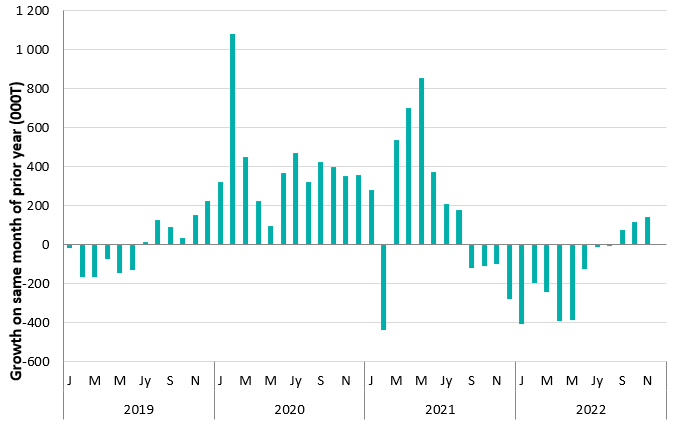 Figure 1 : Milk production evolution  of top 5 exporters (EU, US, NZ, Australia, Argentina)
In January 2022, collection by the main exporters fell by 1.6 % compared with collection in January 2021, which is the largest drop recorded since 2004. In June, world production fell for the eighth consecutive month – the longest period of decline since 2001.
This decline spread to include all the main producers for the first half of the year. Milk collection regained some dynamism in the second half, particularly in the United States, with production up from June. However, it was only in October that the cumulative January 2022 – October 2022 collection of the United States returned to the level of 2021.
This situation is all the more surprising given that the price of milk paid to producers increased very significantly in 2022. In July, the average European milk price was 43 % higher than that paid in July of 2021 [7].
Dairy consumption relatively stable
Global demand for dairy products remained steady in 2022, though with lower import-export flows than in 2021.
The GDT (Global Dairy Trade) index was marked by a downward trend with, notably, the biggest drop between two sessions since 2017 (down 9 % between April 19 and May 3, 2022). This can be explained by the sharp decrease in China's imports in 2022, with its zero-Covid policy strongly impacting its national market and the purchasing power of its consumers. On the other hand, the imports of 2021 were historically high, which puts this decrease into perspective. It is highly likely that stocks were built up in 2021 and consumed in 2022. The drop in Chinese imports in 2022 seems to have been partially offset by the dynamism of other major importers such as Mexico, Algeria and certain countries in Southeast Asia.
As for the internal markets of the major exporting countries, dairy products have not been spared by inflation and rising prices here either. However, in these mature markets the products can be considered essential in the short term and difficult to replace, especially when the prices of potential substitutes are also on the rise. Dairy products are therefore not the first foods to suffer from consumer budget constraints. According to YouGov, it is the purchase of meat, fish, appetizers, desserts and alcoholic beverages that drastically decrease as prices start to rise [6].
The situation has nevertheless been changing month by month, with a marked deterioration in the final months of 2022 where demand gradually decreased.
Historically high ingredient prices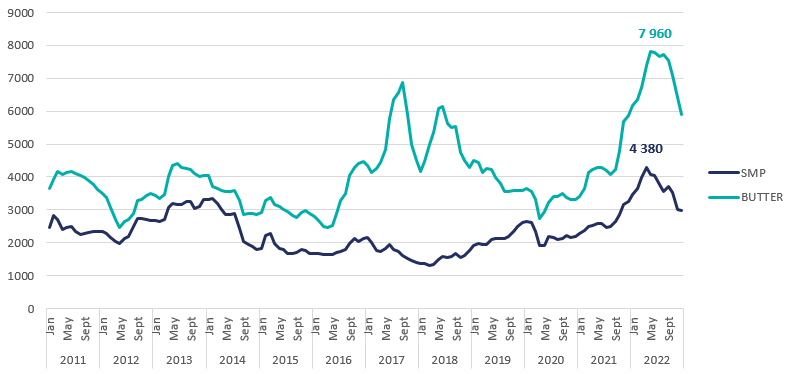 Figure 2 : ATLA Cotations (€/T)
Low global milk collection levels together with sustained demand for dairy products have led to a very marked increase in the price of dairy ingredients. ATLA (French Dairy Processing Association) quotations for butter and skimmed milk powder reached historic highs at, respectively, €7,960/T in June and €4,380/T in April.
Prices for the final months of 2022 fell week by week. This change in trend can be explained by the reversal of the collection drop-off combined with weakening demand. How long the situation will continue and just how low prices will go are two questions that are very difficult to answer at the moment.
2023 a year of challenges
2023 is unfolding on a world market that is still highly disrupted. The war in Ukraine continues to impact commodity, fertilizer and energy markets. Gas shortages and exorbitant energy prices are major concerns for all manufacturers but especially for ingredient producers, who consume a lot of energy during drying operations. Added to this difficulty is the shortage of water and the restrictions put in place to deal with the problem.
Currently, milk prices are still very high and this could encourage producers to boost milk collection volumes.
The IMF predicts an even longer period of high inflation with 6.5 % in 2023 and 4.1 % in 2024 [5]
Inflation is also still very high and likely to remain so throughout 2023. The OECD estimates that it could reach 5.5 % in 2023 and stabilize at 0 % in 2024 [4]. The IMF predicts an even longer period of high inflation with 6.5 % in 2023 and 4.1 % in 2024 [5]. The OECD presented a scenario at the end of November that "is not a global recession, but a significant growth slowdown for the world economy in 2023″. Countries that can do so try to implement support programs for their citizens, thus spending billions of euros at the risk of weakening their economy, since the monetary policies put in place lead to increased interest rates [4]. In the long term, this could continue to weaken the global economy and engender further crises.
The demand for dairy ingredients will be a determining factor for market balance in the coming year. Importing countries have been hit hard by the economic crisis and their inhabitants have had to deal with declining purchasing power. China, which announced the decision to reduce its zero-Covid policy, is now finding itself submerged with cases and consequently has a severely disrupted internal market. In addition to this, the dynamism of Chinese collection and the government's desire to promote national production of dairy products also has an impact on imports.
As regards internal demand in the major exporting countries, since demand for dairy products can only be considered inelastic in the short term, it would now seem to be starting to fall, a situation that might become more pronounced if prices continue to rise and consumers continue to lose purchasing power.
If collection regains its dynamism while demand remains poor, the year 2023 promises many challenges for manufacturers in the dairy sector, weakened as it is by shortages and rising energy costs.
Sources: 
[1] UkrAgroConsult – Webinar: "War in Ukraine. Grain & Oilseed Crop Forecast-2022" – June 2022
[2] L'Atlas sociologique mondial – Classement des Etats du monde par production de gaz naturel – 2019 (List of world states by natural gas production)
[3] L'Atlas sociologique mondial – Classement des Etats du monde par production de pétrole – 2019 (List of world states by oil production)
[4] OECD – OECD Economic outlook, Volume 2022 Issue 2 – November 2022
[5] IMF – World Economic Outlook – October 2022
[6] YouGov – Grande distribution : Préférence des français en période d'inflation – November 2022 (Mass distribution: the preference of the French in an inflation period)
[7] MMO – Economic Board – September 2022
Share on LinkedIn