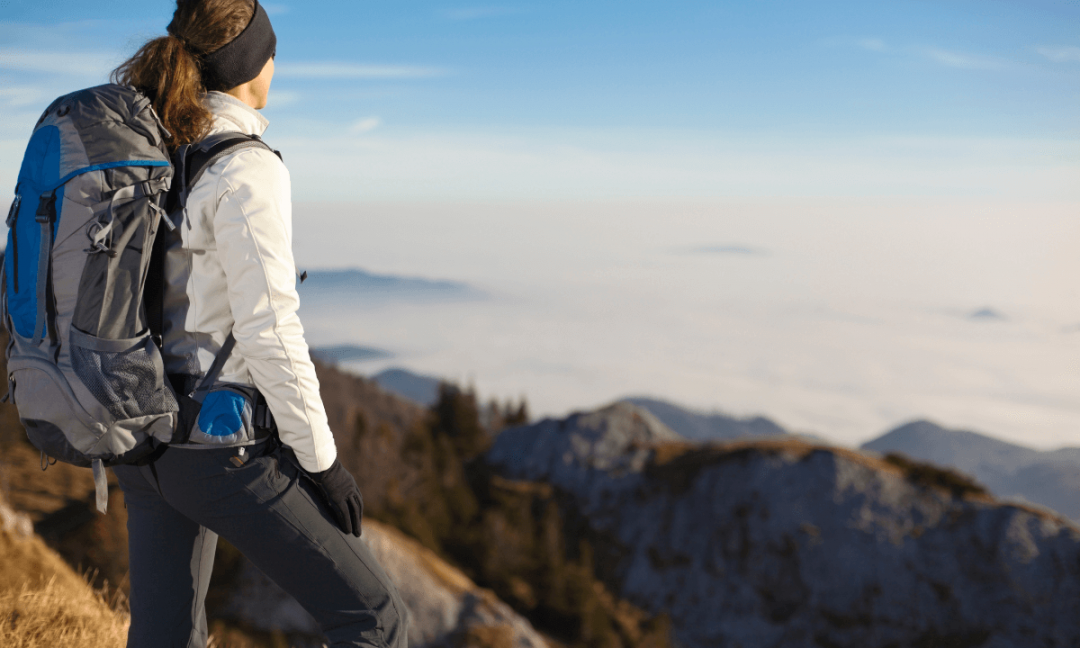 Active nutrition: what are consumers' expectations?
Since the Covid-19 health crisis, health prevention is increasingly at the heart of consumers' concerns. This preventive approach includes the adoption of a healthy and active lifestyle. Indeed, more than 60% of consumers say that the pandemic has made them more aware of the importance of preventing health problems by maintaining a healthy lifestyle. As a direct result of the pandemic, more and more consumers have turned to active nutrition in recent years. Nutrition for well-being: let's discover what consumers' expectations are.
Who is active nutrition for?
Sports nutrition and active nutrition: two very different targets
Historically, sports nutrition was very much associated with the world of bodybuilding, which contributed to the emergence of several prejudices about the products in this sector: e.g., artificial compositions, unhealthy products and even associations with doping. This is why sports nutrition has traditionally only succeeded in attracting a rather limited target, mainly young male athletes, in search of performance enhancement.
The shift from sports nutrition to active nutrition is basically a renewal of the segment with the aim of recruiting a wider target. This segment is now aimed at all those who wish to keep fit, from the recreationally active to top athletes.
Focus on typical consumers of active nutrition
The typical consumer is now much less stereotypical. Active nutrition is aimed at regular or occasional athletes in all disciplines. By extension, it is also aimed at active people wishing to take control of their lives and improve their health and well-being through nutrition. There has been a real change in consumer perception of this segment. Nearly one in two Americans disagree with the statement, "Protein shakes are only good for athletes, not for ordinary people". [1]
Several typical profiles can thus be drawn up:
Active or athletic women.
Active nutrition allows them to reach their physical goals more easily. The emergence of these new consumers can be explained by a notable change in women's sporting objectives in recent years. Previously, the practice of sports among women was more associated with an objective of weight loss. Today, more and more young women are aiming to improve their general physical condition, to be more in shape, and even to gain a little muscle mass.
These kinds of athletes look to active nutrition to optimize their performance: e.g., long-distance runners, cyclists etc. Their expectations are therefore a little more specific: they are looking for nomadic products, to be consumed during extended periods of effort (for instance, bars, fruit pastes, energy gels, isotonic drinks) or recovery products.
Healthy living & active lifestyle enthusiasts.
Moderately active athletes, active nutrition has become a component of their healthy lifestyle. They are particularly fond of protein snacking products.
In active nutrition products, seniors identify a way to help them stay healthy. Active nutrition is indeed one of the levers of "ageing well", it enables the consequences of ageing on muscles and bone to be offset and thus to help seniors to remain active on a daily basis.
Manufacturers must adapt to this diversity of consumer targets. It has become necessary for them to be able to offer variety in their product typologies, to meet a variety of consumer expectations. But that's not all, to succeed in recruiting a large cross-section of active nutrition consumers, they also have to adapt their discourse by declining their communication axes.
However, there are common expectations among the different consumer profiles for active nutrition, rendering them essential prerequisites for a successful positioning on this market.
Very specific consumer expectations regarding active nutrition products
The new consumers of active nutrition have very specific expectations that go against the outdated prejudices towards sports nutrition. They are looking for products that are more accessible, especially in supermarkets, and that are portable and practical to use. Personalization is also a strong trend. Consumers are looking for a greater variety of promises and not only products for performance or recovery.
The healthy nature of the products is an important purchase criterion. Nutritional and health claims are particularly sought after: e.g., "less sugar", "more protein" or "energy boosting". Indeed, 64% of consumers who consume active nutrition products systematically read the list of ingredients and almost half avoid products with a high sugar content.[2] The choice of ingredients must also be well thought out since consumers are looking for effectiveness and scientific proof.
Another key trend is clean label. Consumers are looking for more natural products that will not have adverse effects on their health. 30% of U.S. consumers pay close attention to the health aspect of sports nutrition products beyond performance benefits. And 22% say they are also influenced by naturalness claims when making purchases.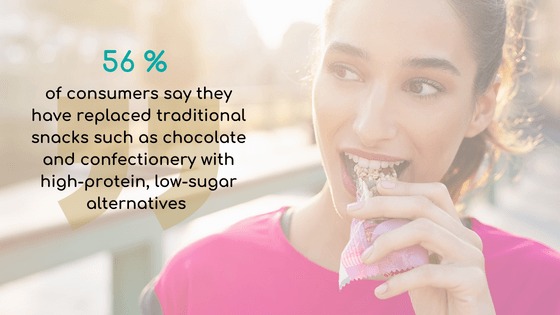 Finally, a key expectation is to replace traditional snacks and beverages with more functional products on a daily basis without affecting eating pleasure. Globally, 56% of consumers say they have replaced traditional snacks such as chocolate and confectionery with high-protein, low-sugar alternatives in the past 12 months. [1]
Protein products at the heart of consumer expectations
Proteins are key nutrients in the active nutrition market. They are also well-perceived by consumers, as proteins are considered a healthy nutrient. With the growing interest of consumers in health prevention, protein content has become an important purchasing criterion.
Lactalis Ingredients offers a wide range of dairy ingredients for the development of protein snacks for your active nutrition ranges:
Pronativ® – Native Micellar Casein: an isolate of milk proteins enriched in micellar caseins. Micellar caseins are rich in branched-chain amino acids and are slowly digested by the body. Consumed in a ready-to-drink beverages or pudding after exercise at the end of the day, this ingredient helps optimize recovery. The properties of micellar casein also make it possible to design drinks with more than 10% protein while maintaining good fluidity.
Pronativ® – Native Whey Protein: directly from milk, our native whey protein is pure and natural. This ingredient is naturally rich in essential amino acids including leucine, which is key to muscle synthesis. Its effectiveness on muscle protein synthesis and its functional benefits on recovery have been proven by clinical studies. In terms of use, our native whey protein can, for example, be used in the design of clear protein waters. It is an ideal ingredient for active nutrition consumers looking for functional and natural products.
Our team will be happy to assist you in your development ideas. Do not hesitate to contact us.
Sources:
[1] Mintel, Sports and Performance Drinks – US – mars 2020
[2] Ibid. Mintel, Attitudes toward Sports Nutrition 2017
Share on LinkedIn