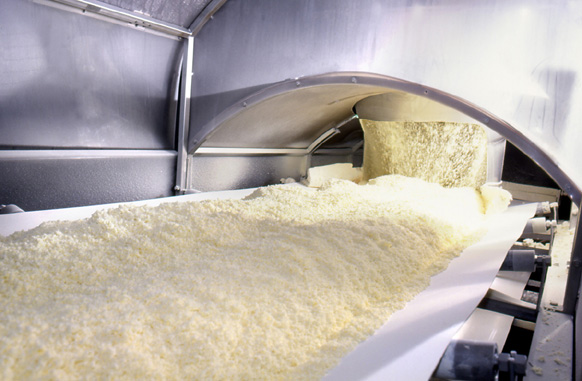 Advantages of High Fluidity Whey Powders
Whey powders, which are derived from cheese production, are now highly technical ingredients. The flowability of these powders has become a key criterion for manufacturers. How can these powders be qualified? How high fluidity whey powders are produced? What are the advantages of this ingredient?
The fundamentals: properties and uses of whey powders
During cheesemaking, the proteins that are transformed into cheese coagulate. The part that does not coagulate is the whey. It is used in powder form for a wide range of applications:
Bakery
Confectionery
Chocolate making
Processed cheeses
Sweetened condensed milk
Dairy products
Infant nutrition
It is above all the lactose and protein content of whey that is sought, for several types of use. The most common use is as a bulking agent through its lactose content, which accounts for nearly 80% of whey powders. With a sweetening power lower than that of conventional sugar (0.16 vs 1), the lactose contained in whey thus contributes to reducing the level of sugars in biscuits, for example.
The protein content of whey (about 11%) also allows it to be used as an economical milk substitute (for the production of chocolate or ice cream, for example).
The impact of whey powder fluidity on industrial performance
A major priority among industrial firms is the ability to source ingredients that are at once technically sophisticated, easy to use and simple to store. Firms that use whey are above all looking for a product offering constant quality (no risk of browning or caking) and easy to use, especially when the bags are emptied.
Lactalis Ingredients offers powders described as free-flowing that offer characteristics sought by production engineers. Their role is indeed to improve industrial performance while optimizing margins.
How are free-flowing whey powders characterized?
In the 1960s, Ralph J. Carr initiated studies and proposed tests to reliably characterize the flowability and floodability of powders. His work resulted in the Carr Index, ranging from 0 to 100, which is a measure of the flowability of a powder.
Based on this work, Hosokawa developed a benchmark tester to measure the flowability of powders. This same machine is used today by Lactalis Ingredients to qualify the flowability of its whey powders, through several tests carried out with the support of a renowned research laboratory (ONIRIS, in collaboration with INRA France).
Slope angle measurement
This test consists of draining whey powder through a funnel. The result is a pyramid-shaped powder with a more or less pronounced angle between the base and the top (see figure 1). The angle obtained (here, an alpha angle, also known as a slope angle) is directly related to the powder's ability to cake or not. The smaller the angle, the less likely the powder is to clump.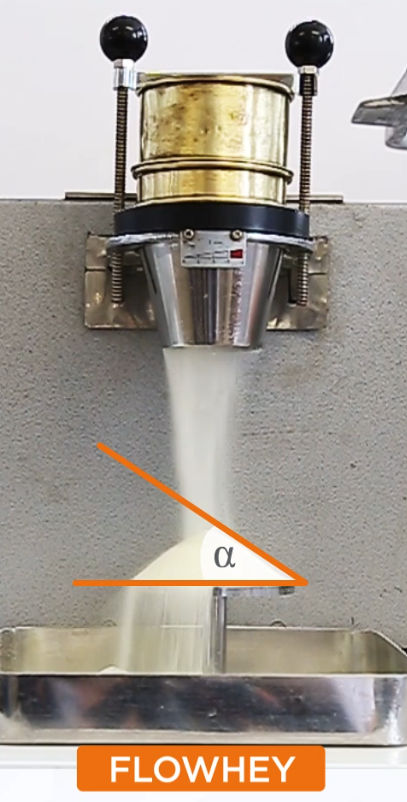 Figure 1: Slope angle measurement
The landslide or surge load test
This test is used to study the dispersibility of powder in air. It involves pouring a mass of powder through a tunnel and measuring the quantity of powder collected at the bottom of this tunnel. The greater the quantity of powder collected, the less the powder is classified as powdery.
The powders are thus classified in an index ranging from 0 to 100, depending on their dispersibility.
Flow velocity
This involves measuring a conventional flow rate by measuring the quantity of whey powder that flows over a given timescale.
The Maillard test in a tropical box
To go further in the qualification of whey powders, there is the Maillard test, which is used to study the stability of powder under conditions of high temperature and relative humidity. This test makes it possible to model the behavior of powder in the laboratory under conditions close to those known in certain exporting countries. The tests are often carried out under "crash test" conditions in order to exacerbate potential defects. The test is based on the non-enzymatic browning kinetics of the powder (also known as the Maillard reaction). The degree of browning of the powder is measured on a scale from 1 to 4.
Through extensive use of these tests, it has been possible to finely characterize whey powders.
Flowhey® Whey Powders
It was in the 1970s that Lactalis Ingredients developed a unique drying process. This process optimizes the lactose crystallization, resulting in a high fluidity whey powder, now marketed under the Flowhey® brand.
For a standard whey powder, the crystallization rate reaches 60 to 70%. With Flowhey® powders, this rate is over 90%.
The objective of this process is to stabilize the lactose crystals going from an amorphous to an ordered form, while targeting small, regular, and homogeneous crystal sizes. This involves setting up specific drying conditions. Initially developed at the Mayenne production site, this technology has recently been deployed at the Verdun factory.
The visual below shows the regularity and homogeneity of crystals obtained with Flowhey® powder compared to a conventional whey powder.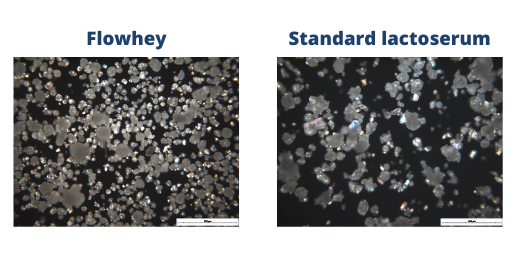 Figure 2: Comparison of Lactose Crystals  – (polarized light X100)
The Flowhey® range: high fluidity whey powders
This range of whey powders meets the requirements of today's and tomorrow's industry by providing technical sophistication and high performance.
Flowhey powders are characterized by:
Ease of storage, even under high temperature and humidity conditions. The Flowhey® range offers excellent heat and humidity stability. The powders do not stick, clump, cake or brown. Even at temperatures above 100°C, their color remains stable, thus facilitating storage. This range is qualified in accordance with the requirements of the major export market, and is ideal for the Middle East or South-East Asia or Africa.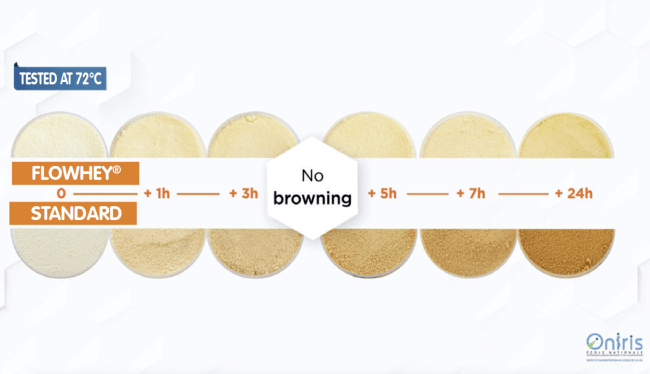 Figure 3: Monitoring of non-enzymatic browning of whey powders (conditions tested: 72°C)
Flow speeds up to 3 times faster than standard powder – thereby increasing our customers' productivity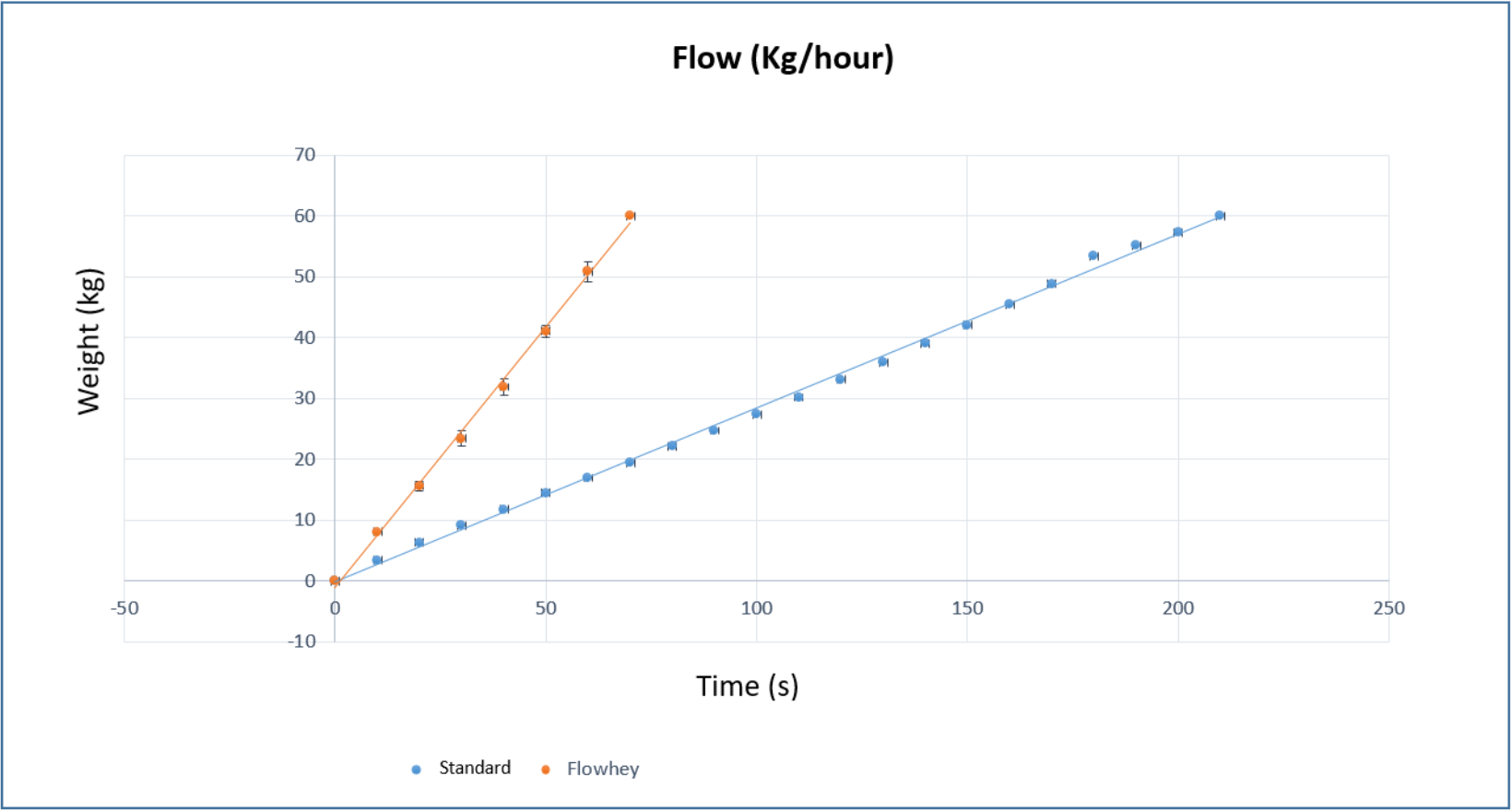 Figure 4: Comparative flow velocity
Less dust is generated, thus maintaining a clean production environment.
Ensuring consistent quality is obviously one of our primary commitments, across all parameters: density, flowability, taste, microbiology, etc. We also offer Kosher, Halal and Vegetarian certified products.
We are able to provide these assurances on the strength of precise, recognized tests carried out with the support of a renowned research laboratory (ONIRIS, in collaboration with INRA France). If you would like to know more about the Flowhey® whey range, watch our video on this topic or contact our team directly!
Share on LinkedIn