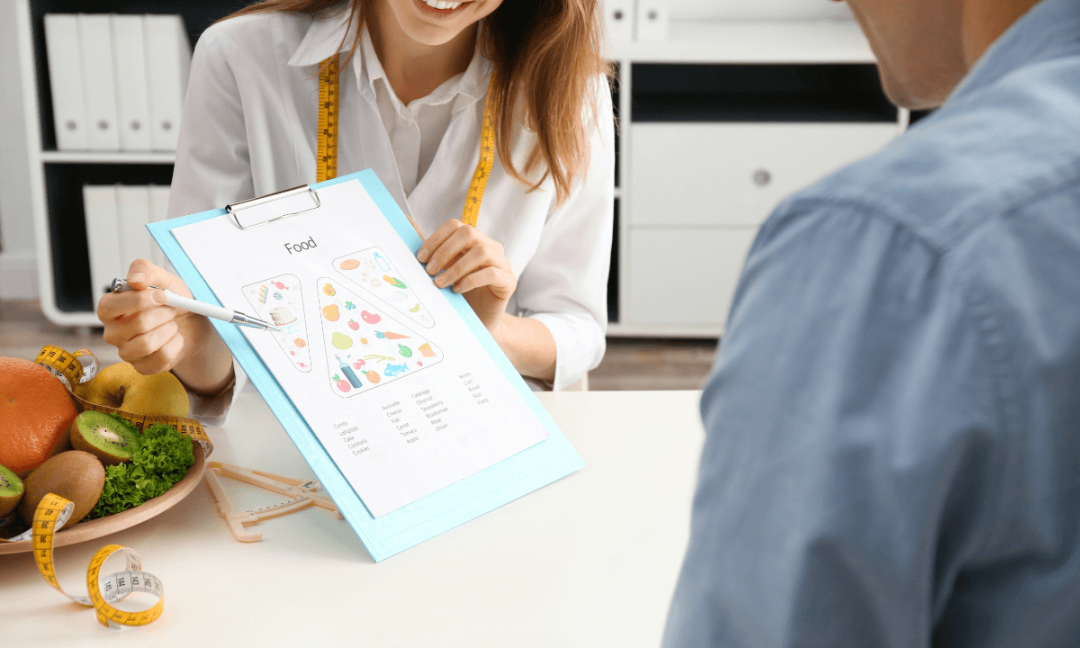 Health and Nutrition
Trends
Personalized nutrition: a growing trend in the North American market
Personalized nutrition or individualized nutrition is a broad concept that can be defined as an approach aiming to provide consumers with foods that correspond to their individual desires and/or needs for a healthier diet and lifestyle. In the North American market, consumer demand for personalized nutrition products is growing steadily. This trend is driven in particular by the development of new technologies.
Personalized nutrition, or how to adapt to each individual's profile
Meeting individual desires
Food tastes are unique to each individual. Based on this truth, the players in personalized nutrition have developed services and products designed to respond specifically to consumer desires: in particular, with regard to choice of flavors or ingredients.
For consumers, eating pleasure is one of the most important criteria when choosing food products. For example, 87% of American consumers choose a food product based on its taste.[1] Beyond taste, other ways of personalizing food have been devised to meet consumer desires: personalizing the texture and shape of food, for example.
Offering foods adapted to individual health needs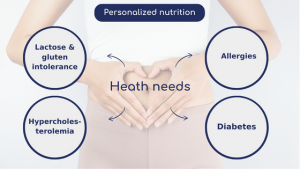 Personalized nutrition also means proposing foods that meet the health needs of each individual. Certain pathologies require the specific selection or avoidance of certain foods. This is notably the case for lactose or gluten intolerance, allergies, diabetes, or hypercholesterolemia. The aim is to limit health risks or improve digestive comfort for those concerned. Manufacturers are therefore developing specific ranges for these pathologies, which represents a first level of personalization. This is done on the scale of a population category, not on the scale of the individual.
For a higher level of personalization, there are solutions or products individually adapted for preventive or therapeutic action. This is particularly true of personalized dietary supplements, which account for 1/3 of the global personalized nutrition market.[2]
Increasing use of new technologies in personalized nutrition
New technologies are driving the development of the personalized nutrition market. In recent years, numerous applications offering personalized nutrition services have been launched in North America incorporating the following features:
Proposal of adapted meals or specific diets based on a questionnaire analyzing the individual's profile and nutritional needs;
Follow-up of health data over time and adaptation of nutritional advice.
To go beyond recommendations based on declarative information and gain in precision, technological services based on analytics have made their mark on the personalized nutrition market. These include blood biomarker analysis, genome analysis using saliva tests, and microbiota composition analysis. Behind all these analyses lies the same objective: to offer nutritional solutions perfectly adapted to individual characteristics.
Personalized nutrition: a booming market in North America
North American consumer demand
North American consumers are increasingly attracted to personalized nutrition products. Indeed, 46% of Americans would like more personalized advice and solutions to support their health.[3] Similarly, 55% of Canadian adults say they would be interested in a nutritional plan based on DNA analysis.[4]
Today, two main consumer profiles are emerging: on the one hand, senior citizens with specific health problems, and on the other, the most digital generations (Millennials and Generation Z).[5]
North America: the world's largest market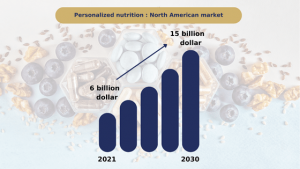 The expansion of the personalized nutrition market is relatively recent in North America. It is linked to advances in scientific research in areas such as genetics, microbiota science, etc. In 2021, this market was worth over $6 billion, making North America the world's leading market by value. Its growth is expected to continue, with revenues of around $15 billion by 2030.[6]
Personalized nutrition thus appears to be a significant growth sector, particularly in the North American market. The development of new technologies, such as artificial intelligence, suggests that the market could yet take on a new dimension. The dairy industry is no stranger to personalized nutrition. The trend is towards product specialization to meet individual consumer needs by offering protein-enriched, mineral-enriched or lactose-free dairy products. Our dairy ingredients offer a wide range of possibilities to meet this trend.
Sources :
[1] International Food Information Council, 2023 Food and Health Survey, 2023.
[2] Future Market Insights, Personalized Nutrition Market Overview, 2022.
[3] IPSOS, What the Future: Wellness, 2021.
[4] Mintel Market Research, The Future of Specialised Nutrition Market Report, 2022.
[5] McKinsey&Company, Still feeling good: The US wellness market continues to boom, 2022.
[6] Research Dive, Personalized Nutrition Market by Product, Application, End-use, and Regional Analysis: Global Opportunity Analysis and Industry Forecast, 2021-2028. 2021.
Share on LinkedIn