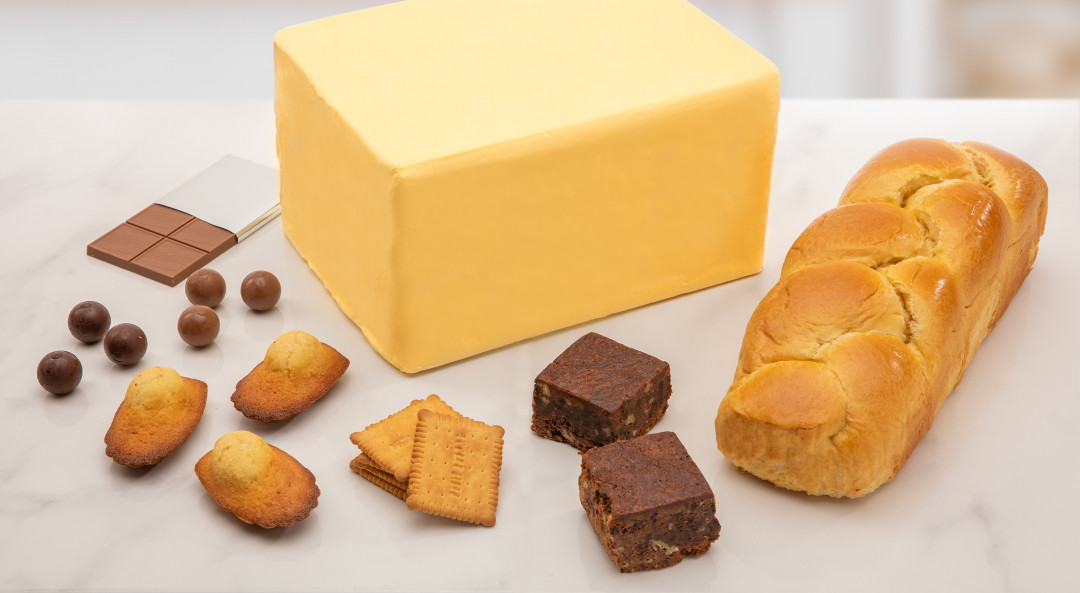 Risk of a global milk fat shortage
Global Milk Collection Slows and Fat Availability Drops
Milk collection in the main exporting countries is struggling to recover, following previously sluggish 2021 production. In January 2022, global collection recorded a 2% drop in production compared to January 2021. 1 Such a loss of momentum automatically leads to a decrease in the availability of fat.
As Europe enters spring, which usually equates to higher milk collection, it would appear that it is slower than in previous years. Collection across the region for January was down by almost 1% compared to January 2021. The trend throughout February and the beginning of March seems to confirm this lack of momentum. 2 Farmers are facing soaring production costs, leading them to err on the side of caution.
This increase in input costs is affecting farmers across the world and is therefore also having a negative impact on collection in the United States and Oceania. These two regions are not spared by the weather either. It is hot and dry, greatly reducing farm productivity. In certain regions of the United States where spring is only just beginning, drought conditions are already critical. 3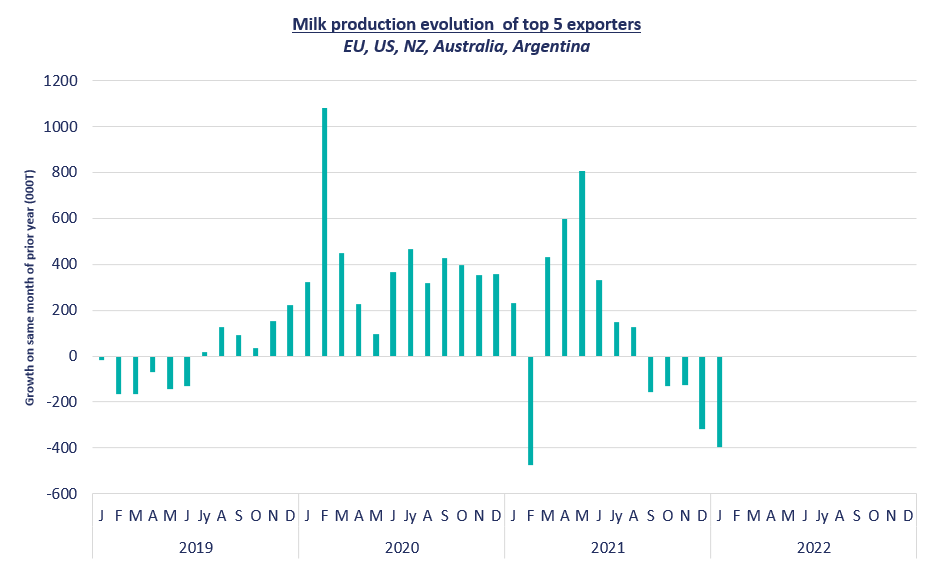 Cheese Continues to Be a Big Hit
Most of the milk collected worldwide is generally used to produce cheese, butter and cream. In the European Union, cream and cheese production increased by 2.7% and 1.9% respectively. 2
In 2021, demand for cream and cheese was particularly high. The cheese market benefited from strong, post-Covid demand in the catering industry, sustained exports, and dynamic demand for its coproduct, whey.
Sales of cream are above their 2019 level. The prices of both products have therefore increased, causing a reduction in the price gap between cream and butter. This phenomenon reduces the incentive to churn and therefore encourages producers to transform the milk and fat into cheese and cream, rather than butter. Consequently, butter production decreased by 2.7% in 2021. 2
World Demand for Butter Is Very Dynamic
In terms of demand, there is a real interest for butter products and global consumers are increasingly fond of this ingredient. Certain markets, such as China and the Middle East, are becoming increasingly interested in pastries, baked goods and even 'butter-based' biscuits, echoing Western gastronomy, which is boosting demand.
This demand is currently very dynamic, both from wholesalers and from the biscuit, pastry, and baked goods industry, leading to considerable pressure on supplies. Currently, the market is very strained, and operators are struggling to meet orders.
A Strained Market Under Pressure
Exports from the main exporting countries, New Zealand, and the European Union, were down in 2021, due to a lack of availability rather than a drop in demand. China substantially increased its imports in 2021, accounting for a large proportion of export volumes. 4
The European Union significantly reduced exports due to lack of availability and higher domestic demand. European butter consumption is indeed dynamic, be it as a consumer product or for use in the agri-food industry. The European market is currently suffering from shortages – with production mainly covering local consumption – and when production is in decline, or when intra-community demand is high, it is not always possible to export.
New Zealand has been concentrating its exports on milk powder and cheese rather than other dairy products such as butter.
Only the United States, despite being a small exporter of fat, has capitalised on the boom in demand to significantly increase its exports in 2021, doubling its export volumes compared to usual levels.
Previously Unseen Historic Prices
This strained situation between supply and demand has a strong influence on the equilibrium price of dairy fat. As a consequence, butter, like almost all dairy ingredients, is experiencing a surge in prices, reaching historic levels. The price of butter now exceeds the highs of recent years, with the price of bulk butter continuing to climb to more than €6,450 per tonne, an increase of almost 80% compared to the same period in 2021. 5

Is the Situation Likely to Last?
Current geopolitical events and forecasts on changes to various indicators, such as climate and environmental concerns related to milk collection, seem to indicate that this situation could continue over the coming months.
Today, nothing seems to suggest that collection, and consequently the availability of fat, might return to a more dynamic level in the months to come. The question is whether or not demand will persist, especially at such high prices.
1: Eurostat, MMO, USDA, DCANZ, Dairy Australia, Ministro de Agricultura Argentina, AHDB, ZMB, CLAL
2: Eurostat
3: USDA
4: GTIS
5: ATLA
Share on LinkedIn