Lactalis Ingredients is rolling out a new graphic identity on the packaging boxes butter range.
Jan 10 2022
Share on LinkedIn
A new graphic charter has been created for the cartons of our butter range in order to be more easily identifiable by our customers.
A dedicated visual identity more easily recognisable for our butter range
This new graphic identity also brings modernity while ensuring the preservation of the quality of our butter during transport and storage. To this end, we wanted to segment our range by setting up dedicated colour codes for each major product family:
Red : 82% MF butter
Blue : Concentrated butter and MGLA
Green : Concentrated butter with foam
In order to better meet our customers' regulatory requirements and limit the need for additional labels on the packaging, we have directly inscribed certain information in hard copy on the cardboard (e.g. list of ingredients, typical composition, etc.). This also makes it easier to read and react. To facilitate the export of cartons, we have added certain languages directly onto the packaging, such as French, English and Arabic.
Example of our new graphic charter on our cardboard packaging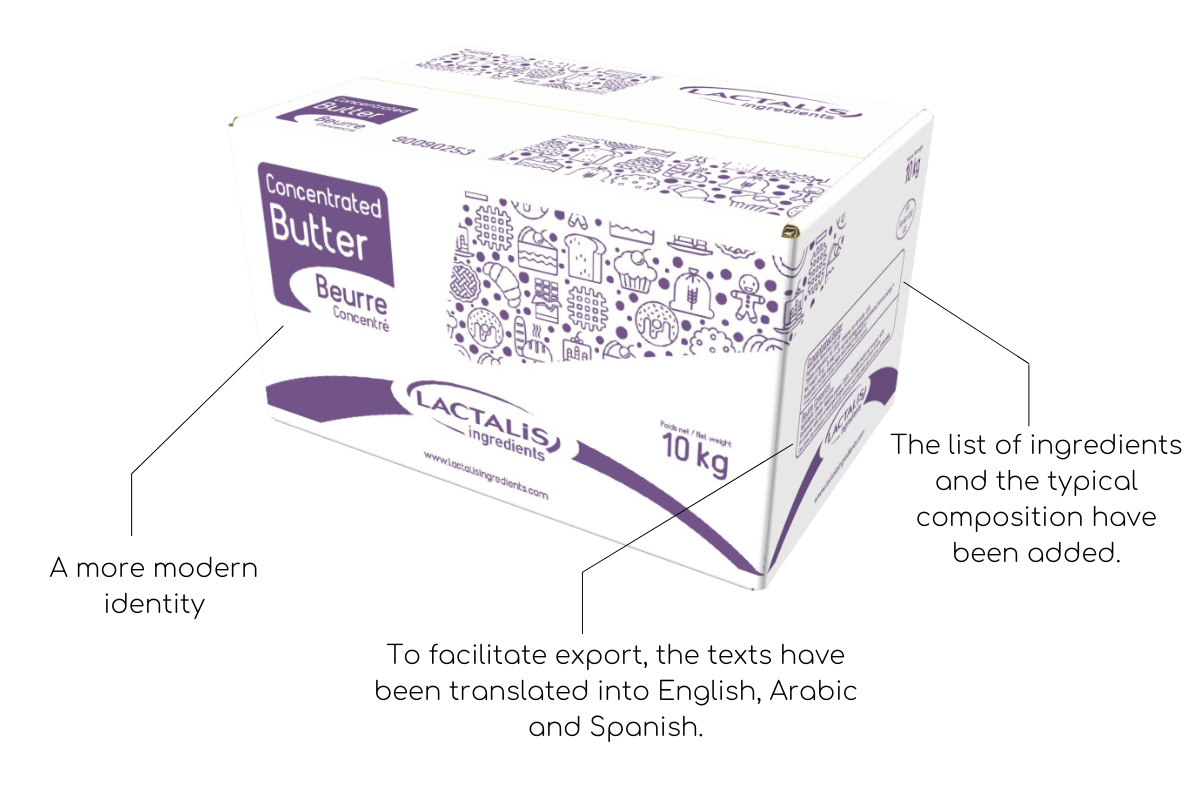 Lactalis Ingredients offers you a wide range of butter
The butter range at Lactalis Ingredients consists of a wide variety of products to meet all the requirements of our customers in the Viennese Pastry, Bakery and Chocolate industries. Our range is segmented according to its technical characteristics:
82% butter
82% butter for Viennese pastries
Concentrated butter & anhydrous milk fat with a melting point ranging from 32 – 35°C to 39°C – 41°C
Concentrated butter with a fluffy texture to facilitate incorporation
Our expertise in butter enables us to give our products unique functional properties, tailored to their use.
If you would like more information, please contact us.
Share on LinkedIn