Verdun inaugurates its new drying tower
Nov 23 2021
Share on LinkedIn
On November 5, we had the pleasure of inaugurating our new whey drying tower on Verdun factory. After several years of work and an investment of 45 million€, the new tour was finally inaugurated. In operation since January 2020, this inauguration day marks the conclusion of 5 years of modernization works.
A new tower equipped with the latest drying technologies
This new tour, equipped with the latest drying technologies, allow the production of 30,000 T of whey powder intended for the food industry. It produces high fluidity sweet whey powder marketed under Flowhey® brand and manufactured through a technology designed by Lactalis Ingredients to optimize the drying of the whey.
This tour has benefited from the latest technical knowledge aimed to modernize and make more reliable our drying process while minimizing our impact on our environment.
Verdun plant, which employs 140 people, now has an overall production capacity of 75,000 tons of whey products per year thus opening up new markets for Lactalis Ingredients. The very composition of the whey (80% lactose, 11% protein), coupled with an innovative technology, will allow Lactalis Ingredient to sell more whey powder in human nutrition (chocolate, dairy products, biscuits, processed cheeses, etc.) while develop international positions.
The Verdun production site in a few figures

As the leading Cheese producer in the world, Lactalis group enables Lactalis Ingredients division to be the world leader in the production of whey.

The Flowhey® drying technology
Expert in the treatment of whey for nearly 50 years, Lactalis Ingredients has developed its industrial expertise in drying and filtration thanks to the functional and nutritional properties of the whey.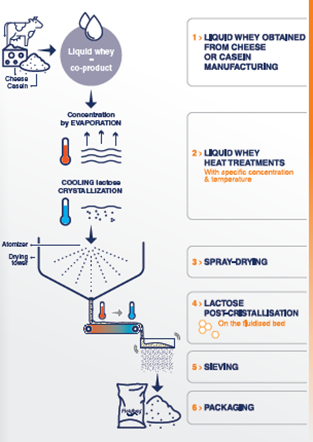 This technology, called Flowhey®, aims to optimize the lactose crystallization contained in the whey in order to avoid unstable forms that are more hygroscopic and risky to cake.
Flowhey® High Fluidity powders is particularly advantageous in exports conditions known to be hot and humid areas that often are critical for the storage of whey.

Its high fluidity characteristics also allow bags or big bags to be emptied 2 to 3 times faster than standard whey while limiting the release of dust into the atmosphere in the workshops.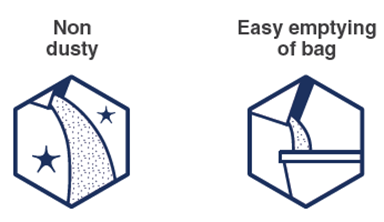 Share on LinkedIn