Lactalis Ingredients is setting a new graphic identity for its LAKTODEM® bags
Mar 8 2022
Share on LinkedIn
From march 2022, Laktodem® bags will be renewed with a more modern graphic design. They will also include more languages and regulatory information than before.
A dedicated visual identity more easily recognisable
Laktodem® is a Lactalis Ingredients brand fully dedicated to its Demineralised Sweet Whey Powder range from 50% to 90% rate of demineralization. Laktodem® was historically developed by LactoSerum France based in Verdun in the North of France. In 2015, Lactalis Ingredients decided to acquire LactoSerum France company. For more than 3 years, Lactalis Ingredients has been investing a lot in the demineralization workshop of Verdun factory to upgrade process, environment and product quality.
In that context, it was time to update Laktodem® bags to strengthen the brand identity and visibility. This new identity also brings modernity while ensuring the preservation of the quality of the powder during transport and storage. Of course, this does not change the quality of the product, which remains exactly the same.
LAKTODEM® : a dedicated brand with its own identity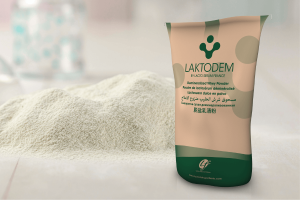 New Laktodem® bags will include more languages and regulatory information printed in hard copy on the bags to limit the use of specifics labels (e.g. list of ingredients, typical composition, etc). At the same time, we profit from this change to align Laktodem® bags with the new Lactalis Ingredients graphic charter.
This change will be effective from mid of March 2022 in production.
LAKTODEM® : a full range of demineralised whey powders
Laktodem® range at Lactalis Ingredients include different rate of demineralization: from 50% to 90%. This help to meet many different markets such as infant nutrition, adult nutrition, bakery, blends, dairy or chocolate applications.
Our range is therefore segmented as below:
Laktodem® 50
Laktodem® 70
Laktodem® 90
Laktodem® WPC : demineralised whey protein concentrate with different protein ratio
Our expertise in drying, demineralization and powders behaviour enables us to propose our customers the most accurate product.
If you would like more information, please contact us.
Share on LinkedIn