Lactalis Ingredients present at Africa Food Manufacturing 2023. 
Apr 27 2023
Share on LinkedIn
We are pleased to inform you that we will be attending the Africa Food Manufacturing show from May 28 to 30, 2023. This exhibition will allow you to exchange with the agri-food professionals of the Middle East
Africa Food Manufacturing: meet the professionals in the Middle East
Located in Cairo, Africa Food Manufacturing is an opportunity to meet the different actors of the agri-food industry. Find more than 350 exhibitors from 20 different countries.
This exhibition brings together two main themes: technologies and industrial food and beverage processing. In addition to the various exhibitors, you can attend various conferences on the latest trends and challenges for the food industry.
Come meet us at booth H2.D11 to discuss your needs and find the best solution in terms of dairy ingredients.
.
.
Lactalis Ingredients, a major player in dairy ingredients
At Lactalis Ingredients, we are experts in the dairy sector. Our 90-year know-how allows us to offer a wide selection of dairy ingredients worldwide. We pay special attention to offer innovative products that best meet your nutritional and functional needs.
From milk powder, to proteins, whey and milk fat, our range offers many applications: chocolate, confectionery, bakery, dairy products but also sports/infant/senior nutrition.
Discover Lactimilk®, our fat filled milk powder that can be used in various applications such as dairy drinks, yogurt, and as a tea and coffee whitener. Lactimilk® is composed of 28% vegetable fat and 24% protein and is enriched with vitamins A and D. Its instant quality and good wettability are ideal for the consumer.
Our knowledge of the dairy sector and its ingredients will allow us to guide you to find the ingredient that will meet your expectations.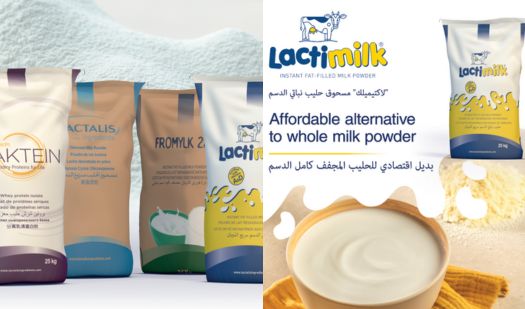 We hope to see you at the Africa Food manufacturing!
In the meantime, don't forget to subscribe to our newsletter and LinkedIn to see all of our news.
Share on LinkedIn