Lactalis Ingredients will once again be present at next FIC 2022
Jul 6 2022
Share on LinkedIn
First planned in March 2022, FIC has finally been postponed in August. Let's hope that this year 2022, the year of the tiger, will bring luck, strength and prosperity to overcome these two years of COVID misfortune. For this FIC edition, Lactalis Ingredients will be proud to be fully represented by its whole Chinese subsidiary team that succeeds in overcoming all challenges.
Lactalis ingredients: a global supplier of dairy ingredients
Lactalis Ingredients is one of the leading B to B company of dairy Ingredients. Recognized as a major producer of whey and milk ingredients dedicated to a wide range of application, Lactalis Ingredients has acquired a deep and solid expertise in dairy. Lactalis Ingredients aims to valorize every drop of milk coming either from the extra collection of the Group Lactalis or from by products of the cheese and butter manufacturing.
Offering dairy ingredients from 5 main categories: milk powders, whey & whey derivatives, butter, proteins and industrial cheeses, Lactalis Ingredients is able to deliver its customers worldwide. We are constantly focus on meeting all our customers' expectations, from the food business requests to those of the nutrition or clinical industry. FIC is one unique occasion to exchange with our customers on their current and future needs, to share with them our vision and to answer their questions
Customers are in the heart of our strategy
Assuring Food Security and Quality is a major priority for Lactalis Ingredients. At every stage, Quality is in the heart of our decisions to propose the most suitable and safest ingredient. Working in collaboration with our customers is a priority to deliver the best suitable solution in terms of quality, delay, delivery and price.
Covering a wide range of products, we keep believe in promoting some specific ingredients particularly adapted to the Chinese market:
Our solutions for specialised nutrition
At this exhibition, we will present our latest innovation: Pronativ® – Native Micellar Casein. This protein is directly sourced from fresh milk, thanks to a gentle process that keeps the protein close to its natural state in the milk. Its nutritional value is thus preserved, as are its functional properties.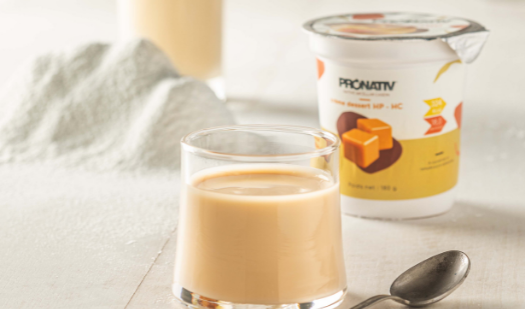 Pronativ® – Native Micellar Casein is therefore ideal for meeting the needs of consumers seeking to age in good health and for clinical nutrition manufacturers. We also provide Pronativ® Native whey protein, a pure and natural protein that is naturally rich in essential amino acids, including leucine. Pronativ® Native whey protein is ideal to meet the needs of consumers looking to boost their athletic performance and support their active lifestyle.
Trade exhibitions are an opportunity to strengthen our relationships with our customers. If you are planning to visit FIC, please come and see our team at stand 41D80!
Share on LinkedIn