Meet Lactalis Ingredients at the Gulfood Manufacturing exhibition from 8 to 10 November 2022, in Dubai
Oct 24 2022
Share on LinkedIn
We will be present and look forward to seeing you from 8 to 10 November at the next edition of Gulfood Manufacturing in Dubai, a real meeting place for manufacturers of new ingredients.
Gulfood Manufacturing is a must-attend event for the food industry, providing an opportunity for over 36,000 attendees to discuss the latest trends and topics.
Lactalis Ingredients, expert in the field of dairy ingredients
Lactalis Ingredients is a world expert in harnessing the full value of milk, offering a wide range of ingredients designed to meet the different challenges faced by various applications such as chocolate, fresh dairy products, cheese and ice cream, bakery products and confectionery.
With nearly 90 years of history and experience, Lactalis has made the quality of its products and the accessibility of the nutritional benefits of milk its priorities, in particular, by developing a strategy that respects people and the environment.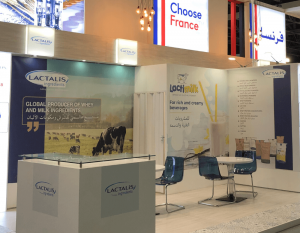 Responsible for increasingly healthy nutrition for all
As our responsibility is to meet the challenges of a healthy nutrition, accessible to all, Lactalis Ingredients offers you several milk powders to meet the needs of your activity:
Containing 28% vegetable fat and 24% protein, Lactimilk® is a fat filled milk powder containing vitamins A and D to meet nutritional needs.
UHT skimmed milk powder guarantees the stability of the finished product and its bacteriological quality throughout its shelf life.  UHT dairy drinks made with our skim milk powder will not only preserve a pleasant dairy taste, but will also be free of sedimentation problems.
HHHS skimmed milk powder is specially designed to provide a source of non-fat solids for the manufacture of evaporated and sweetened condensed milk, and provides excellent heat stability, which prevents protein gelling during the production of condensed milk. To understand how to choose the most suitable milk powder when formulating condensed milk, Lactalis Ingredients recommends the article: HHHS milk powder for condensed milk.
At the next Gulfood Manufacturing, we will be pleased to welcome you at the Dubai World Trade Center and offer you our various solutions tailored to your needs at stand B8-19 in hall 8.
In the meantime, follow us on LinkedIn to stay informed.
Share on LinkedIn