Whey market development over the next seven years: EWPA publishes its "Whey Protein Paper – Outlook 2030
Dec 21 2022
Share on LinkedIn
Plant alternatives, protein demand, dairy resources… what impact on the whey market of tomorrow?
This year, the European Whey Processors Association (EWPA) has embarked on the difficult exercise of making a 7-year projection.
Wishing to present their vision of the whey market and the future developments that could impact it, the various manufacturers in the working group are today presenting their "Whey Protein Paper – Outlook 2030".
Food safety, environmental regulations, a diet identical to the one we know today or in a state of disruption, the major current and future global changes have, and will have, a huge  impact on the dairy industry and, more specifically here, the whey industry.
Will supply be able to meet demand or will some derivatives be favored, to the detriment of others?
In this report, you can discover four scenarios, providing four very different visions of the market in 2030 and realize, in order to better anticipate them, the consequences for consumers and producers of whey.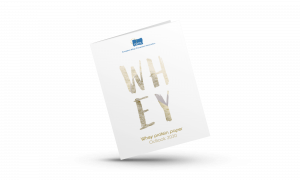 For more information, download the EWPA paper here.
Start following EWPA on their new LinkedIn account where the white paper is available to download now: linkedin
Share on LinkedIn