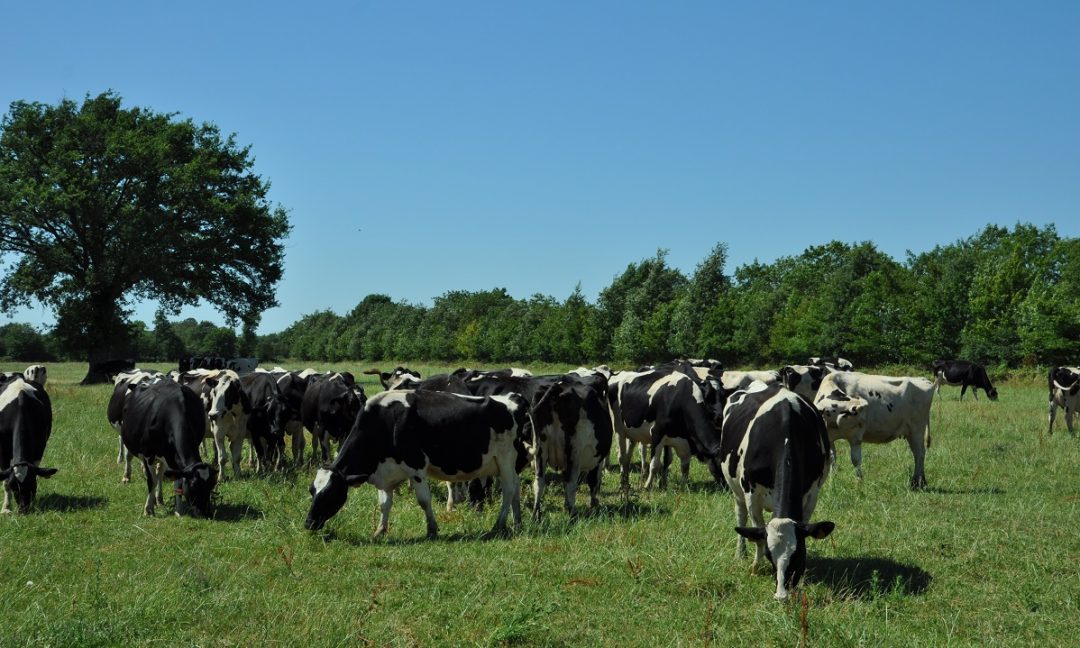 How did animal welfare become a necessity?
Animal welfare is an increasingly important concept in our society. Indeed, consumers expect brands to be stakeholders in this issue. How can companies speak out? And how can we make a concrete commitment?
Definition and principles of animal welfare
Animal welfare is defined[1] as "the positive mental and physical state related to the satisfaction of an animal's physiological and behavioral needs and expectations. This state varies according to the animal's perception of the situation". The overall physical and psychological well-being of the animal is therefore taken into account.
The five fundamental freedoms of animal welfare were set out by the Farm Animal Welfare Council in 1992. They were subsequently taken up by the OIE, the World Organization for Animal Health:
Absence of hunger, thirst and malnutrition
Absence of fear and distress
Absence of physical and/or thermal stress
Absence of pain, injury and disease
Freedom to express normal behavior of one's species

They represent guidelines for brands, manufacturers and anyone wishing to commit their company to animal welfare.
Why commit as a brand?

A key value: naturalness
Consumers are increasingly well-informed about these social issues and are adopting more responsible and ethical consumption patterns. 71% of consumers indicate that they could stop consuming from a company if it has values contrary to their own[2]. Animal welfare is at the heart of these considerations: 73% of consumers favor products that take this notion into account[3].
Animal welfare also influences eating behavior. Vegetarian and vegan diets are increasingly being adopted by the population. This ranges from eliminating food products from animals, to clothing (leather) and cosmetics. But the most common diet is flexitarianism, which advocates more occasional consumption of meat for example. Eating less, but better.
The role of brands is therefore to be transparent and to provide reassurance.
The role of brands is therefore to be transparent and to provide reassurance. This is especially true following the numerous shock videos published by associations. Entire sectors are getting involved, such as the French dairy industry, which has presented a plan in favor of animal welfare and milk quality. The aim is that by 2025 all French farms will comply with the rules. To achieve this, they will be evaluated on 4 main areas defined in agreement with NGOs. More information is available here.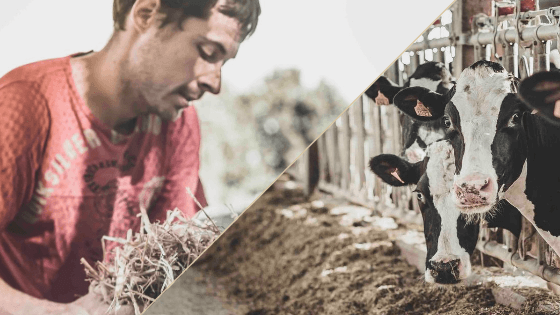 Animal welfare is part of a global approach to sustainability
Companies in the agri-food sector have a common goal: to offer food that is more respectful of the planet. Many are implementing CSR (Corporate Social Responsibility) policies to meet the needs of all their stakeholders. Animal welfare is fully integrated in this approach. It creates a sustainable ecosystem between the animal, the farmer and the environment. The farmer's profession is valued. Moreover, animal welfare is increasingly present in distributors' specifications. Finally, in environmental terms, livestock farming is returning to its fundamentals thanks to methods that are more respectful of nature.
It creates a sustainable ecosystem between the animal, the farmer and the environment.
Access to pasture is an important pillar of animal welfare. Indeed, cows benefit from a better quality of life with less stress because their physiological needs are respected. In addition, studies have demonstrated the superior nutritional quality of milk from grass-fed cows. This milk would help bring us closer to the official recommendations.
Committing to a sustainability approach also impacts the company's performance. Performance is improved through better management of resource-related and the preservation of the environment.
How to get involved?
Evaluation and supervising farmers
The five fundamental freedoms of the World Organization for Animal Health are guidelines to be applied if one wishes to commit oneself. To evaluate the implementation and compliance with these laws, there is an evaluation tool: Welfare Quality[4]. This tool is based on 4 main criteria: food, housing, health status and behavior. It provides a homogeneous evaluation for all the partners of a sector or a company.
At the national level, a charter exists: the charter for good agricultural practices. Created in 1999, it helps breeders to improve in their practice to meet the expectations of their partners and citizens. It brings together six essential commitments: identification, herd health, feeding, milk quality, animal welfare and human safety, and the environment. Since its creation, the charter has been modified several times and a new version is currently being developed. It is a solid basis for producers who wish to make a more concrete commitment.
Some companies go further and create their own charter. This is the case of the Lactalis Group, which is setting up a common reference system for its farmers. This started with a field study in 2019. It enabled the farmers to be assessed and to assess the situation in order to make concrete and useful commitments. In addition, the Lactalis group supports young farmers when they set up, in the choice of free stalling for example.
A third party audit carried out  by Certipaq, has been set up to verify that the requirements and procedures issued by the charter are respected.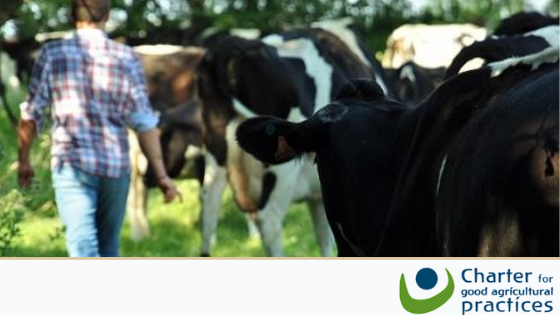 Going organic
Organic farming is in growing demand by consumers who want natural products. Worldwide, the organic market was valued at more than $100 billion in 2018[5]. In France, 75% of French people say they consume organic food regularly[6]. For consumers, there is no animal welfare label specific to the dairy sector. The Organic Farming label is therefore a reference for buyers because it includes animal welfare when it is awarded.
Adopting an organic-committed approach guarantees access to pasture for animals, fair remuneration for farmers and respect for biodiversity.
Communicate your actions to consumers
When a company sets up a charter, it is important that it adopts a clear and transparent discourse with its customers. Indeed, putting a charter in place and enforcing it acts as an element of reassurance. In addition, there must be consistency between the words, tools and evaluation systems put in place. Communicating from the origin of the product until it is put on the shelves is a plus and the use of the blockchain is becoming more widespread to respond to this problem.
However, even with the implementation of all these actions, it remains difficult for the consumer to find out about farming conditions when buying a product. Europe has published the Farm to Fork plan which aims to make food systems fair, healthy and environmentally friendly. The report foresees an evaluation and review of current animal welfare legislation by the end of 2023. But without a common label on a European scale, it is not possible to date to put forward producers who would have higher standards than others. The initiatives are therefore rather national and punctual.
For example, a label has existed since December 2018 in France and can be affixed voluntarily by manufacturers. However, the animal welfare label currently only concerns poultry. There are also more isolated initiatives, such as the Happy Farmers label. This is applicable to dairy and suckling farms. Farmers can request a free audit based on more than 200 criteria. This label aims to create a virtuous circle between animal welfare and recognition of farmers. Finally, in the United Kingdom, there is the RSPCA Assured. This is a label that takes animal welfare into account. 30% of pig production in the United Kingdom has obtained it. To date, the dairy sector has not seen any specific initiatives, but this does not prevent the dairy industry from making a commitment to animal welfare.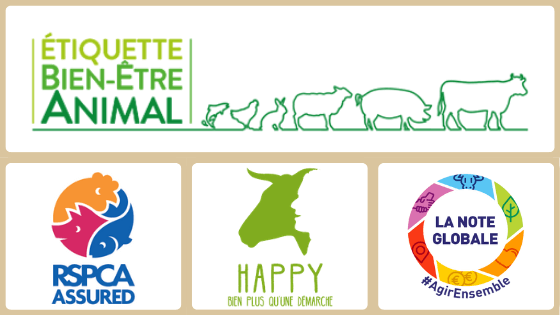 Thus, animal welfare is a major issue for any food industry. Today, this criterion is added to consumer expectations such as locality, naturalness, sustainability and nutritional quality. With the growing number of labels, consumers struggle to find their way. They turn to channels that reassure them, such as organic or grass-fed. At the Salon de l'Agriculture 2020 (International Agricultural Show), the "overall score" was presented. It is a score grouping together several of these criteria for the same product. This type of label enables brands to commit to social issues, to work on ways of improvement and to communicate to the general public.
The Lactalis Group is committed to animal welfare and more generally to the sustainability of the dairy sector. Consult this page to find out more.
Sources :
[1] https://agriculture.gouv.fr/le-bien-etre-animal-quest-ce-que-cest
[2] Clutch, How Corporate Social Responsibility influences buying decisions?, 2019
[3] Woldpanel FMCG – Opinion Survey, 2018
[4] Ministère de l'agriculture et de l'alimentation, Le bien-être animal – qu'est-ce que c'est ?, 2019
[5] Agence Bio, L'agriculture Bio dans le monde, 2019
[6] Agence Bio, Edition 2020 du baromètre de consommation et de perception des produits biologiques en France, 2020

Share on LinkedIn