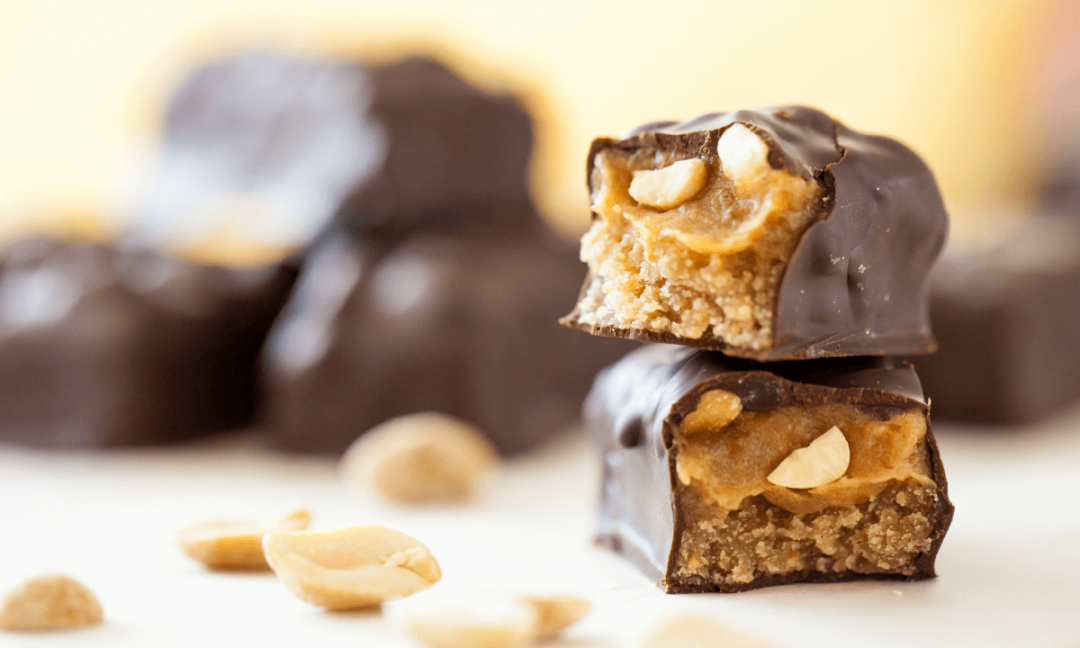 The chocolate and confectionery market: a dynamic market that meets consumer expectations
The chocolate and confectionery market includes a wide variety of products, including chocolate bars, spreads, confectionery items such as sweets and chew bars, and cocoa powder [1]. This market constantly renews itself by adapting to changes in consumer expectations, thus retaining its dynamism.
The chocolate and confectionery market is booming
The chocolate and confectionery market in a few figures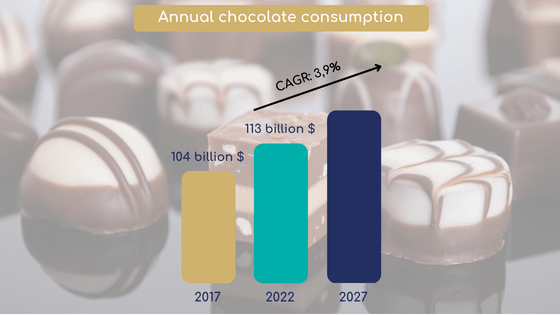 The chocolate and confectionery market is growing rapidly. The value of the global market has increased from $104 billion in 2017 to $113 billion in 2022 [2]. And it looks like this upward trend is set to continue, as an average annual growth of +3.9% is forecast until 2027 [2].
Although some regional markets such as Europe and North America are considered mature, they continue to indicate steady growth. By contrast, others, such as the Middle East, Africa, and Asia, are still in a strong growth phase. Their annual growth is estimated at +6.7% between 2022 and 2030 [2]. These are both very promising markets for the years to come.
Moreover, levels of chocolate consumption around the world are quite disparate. While a Swiss person consumes an average of 10 kg of chocolate per year, a Chinese person consumes only 0.2 kg. The annual average world consumption of chocolate per capita is 0.9 kg [3].
A global context favorable to market growth
Between the COVID-19 pandemic and the subsequent impact of inflation on the cost of living, the last few years have not been easy for consumers. However, some notable changes in their daily lives during the pandemic, such as lockdowns and the increasing number of people currently working from home worldwide, have created a favorable context for the growth of the chocolate and confectionery market. Staying at home, consumers tend to consume more chocolate [1] and confectionery. More generally, during these difficult times, consumers need comfort and turn more to "pleasure" foods. However, these changes in eating habits could have negative repercussions on the health of consumers, as "pleasure" products are often high in energy, sugar, and fat. Recall, for example, that in France, the adult obesity rate rose from 15% in 2012 to 17% in 2020 [4].
The chocolate and confectionery market is becoming more responsible
More sustainable
Certified sustainable products are increasingly represented in the chocolate and confectionery market. Between 2012 and 2015, environmental claims (e.g., products using the Rainforest Alliance and Fairtrade labels etc.) have increased by 300% on the global market [5]. In addition, upcycling of cocoa co-products is emerging: in particular the production of green energy or biomaterials from cocoa pod offcuts. This is a way to valorize the 50% of raw materials from the pod that are not used to make chocolate.
More ethical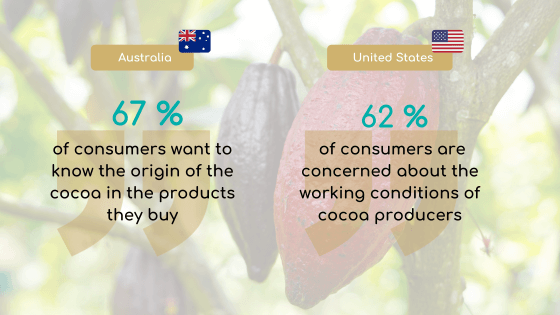 The new consumer trends also concern product transparency. For example, 67% of Australian consumers want to know the origin of the cocoa in the products they buy [6]. To meet these expectations, brands are increasingly emphasizing the origin of their raw materials in their efforts to connect with consumers. They highlight the unique origin of their cocoa, guaranteeing its own specificity and a certain quality, in contrast to blends [6].
Moreover, 62% of American consumers are concerned about the working conditions of cocoa producers [7]. To meet these challenges, chocolate and confectionery market players are offering more transparency as regards the production methods of their products and are using more and more ethical labels.[8] As a result, worldwide, the number of chocolate brands describing themselves as ethical rose by a staggering 94% between 2020 and 2022 [9].
Healthier
Two trends can be observed across all product categories. On the one hand, to avoid or limit certain ingredients considered unhealthy (e.g., sugars, fats).6 And on the other hand, to enrich one's diet with essential nutrients (fibers, proteins). Despite its positioning around eating pleasure and indulgence, the chocolate and confectionery market is not immune to this trend. Gourmet products that are rich in protein, fiber, magnesium and iron (chocolate in particular) are becoming increasingly popular [7].
Discover our high-protein chocolate concept.
An emerging demand for adapted premium products
The popularity of premium products adapted to special diets continues to grow in the chocolate and confectionery market. At the forefront: lactose-free products.
For the formulation of your lactose-free products, discover our Lactose-free Skimmed Milk Powder. It has the same taste and properties as standard milk powders, but without the lactose!
The range of chocolate and confectionery products for people who have adopted a vegan or gluten-free diet is also expanding. The vegan chocolate market, for example, is expected to reach more than $1 billion by 2028, with a growth of 14.8% compared to today [10].
The chocolate and confectionery market is performing well worldwide, with exciting growth prospects in certain regional markets. Faced with pressure from consumers, the market is also making the transition to a more responsible offer, better adapted to the needs of each individual.
Sources:
[1] Syndicat du Chocolat, Chiffres clés 2021 du secteur. 2021.
[2] Global Data, 2022.
[3] RationalStat, How much Chocolate is Consumed Per Year?. 2022.
[4] Ligue contre l'obésité, Forte progression de l'obésité en France en 2020. 2021,
[5] Inside FMCG, Top choc flavours, global trends unveiled. 2016.
[6] Truly Expériences, Chocolate Industry Statistics. 2022.
[7] National Confectioners Association, NCA Releases Report About Chocolate Consumers. 2019.
[8] Cargill, Global Trends.
[9] CircleUP, The Chocolate industry trends of 2022. 2022.
[10] PR Newswire, Global Vegan Chocolate Confectionery Market Report. 2022.
Share on LinkedIn