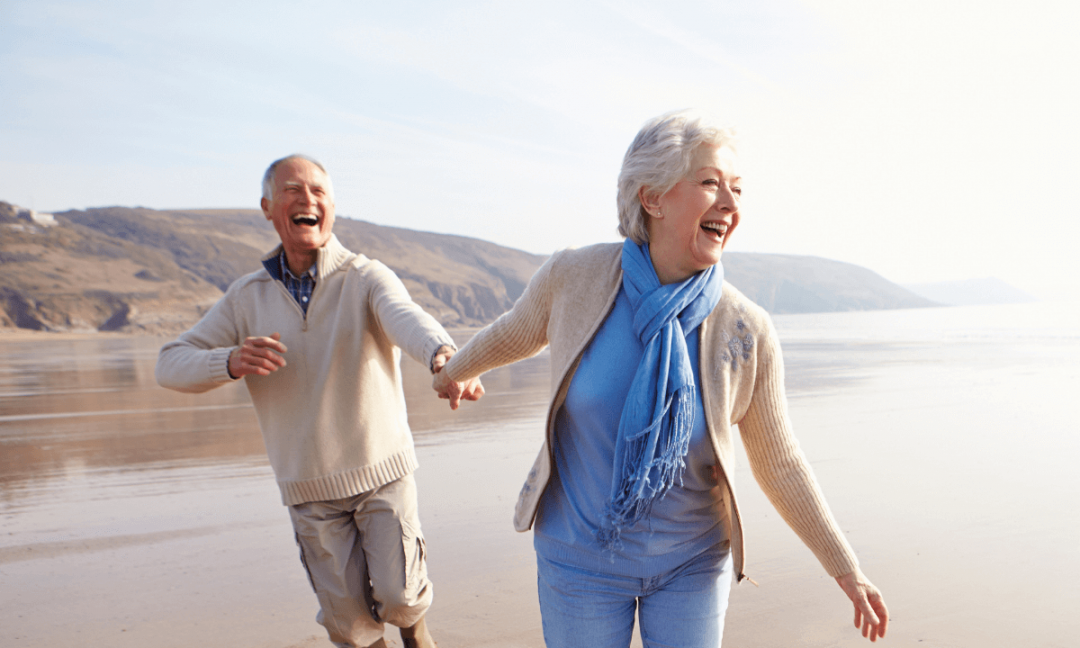 Clinical nutrition: expectations and solutions
Today, with the ageing of the population, undernutrition is one of the major public health issues. This pathological state results from a deficit in nutritional intake compared to the individual's needs. It can be the consequence of a diet that is too low in energy and proteins and/or of hypermetabolism. These two situations are frequent in the elderly, who have increased needs and who, moreover, are prone to loss of appetite. Therefore, there is a real need to provide solutions, via clinical nutrition, to help our seniors live longer in good health.
What professionals are looking for in clinical nutrition
Identify the factors of undernutrition
Ageing is one of the main causes of undernutrition. This can be explained by a set of physiological changes and an accumulation of risk factors related to age. On the one hand, there is an increase in nutritional needs. This is notably the case for proteins, with the increase from 0.8 g/kg/day in adults to 1 g/kg/day[1]  in the elderly.
On the other hand, they suffer from a loss of appetite which can be explained by[2] :
Physiological changes (loss of taste, swallowing disorders, etc.)
Psychological changes (social isolation, hospitalisation, etc.)
The arrival of disorders, pathologies and chronic pain and the restrictive diets they require (salt-free, cholesterol-lowering, etc.)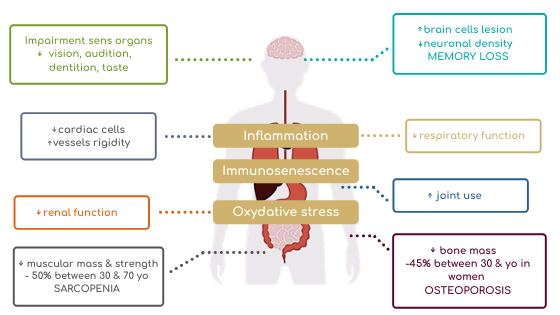 Figure 1 : Consequences of ageing
This cumulative effect accelerates the loss of weight and muscle mass. This in turn leads to a loss of autonomy with serious psychological consequences.
.
Strengthen prevention
To prevent their patients from entering this vicious circle, health professionals seek to reinforce prevention of undernutrition. The two pillars in raising awareness are nutrition and physical activity. The idea is to teach the patients the importance of taking care of themselves before the first signs of undernutrition appear. The goal is to make patients proactive towards their health throughout their lives.
The two pillars in raising awareness are nutrition and physical activity.
Earlier screening of undernutrition
Health professionals are also advocating for earlier screening of undernutrition. The aim: to be able to take action before it is too late. Indeed, early detection would make it possible to reduce the delay of treatment and thus reduce the risks of complications. Ultimately, it would also reduce the human and financial costs associated. According to the "Haute Autorité de Santé" (High Health Authority) in France, undernutrition now affects a significant proportion of elderly people[3] :
4 to 10% of elderly people at home
Screening for undernutrition consists of an evaluation of various clinical criteria: weight, BMI, reduction in food intake, etc. Management is then adapted according to the severity of undernutrition.
Fighting undernutrition through appropriate nutritional management
After defining the nutritional needs of the malnourished patient, their management is carried out in several stages:
Enrichment of their diet ;
If this is insufficient: the addition of oral nutritional supplements (ONS) to their diet ;
If this is also insufficient: switching to enteral or parenteral nutrition.
The management of undernutrition in the elderly through nutritional interventions has proven to be effective[4-7].
What patients are looking for in clinical nutrition
Rediscover the pleasure of eating
Lack of patient compliance remains one of the main problems in nutritional management. If they do not enjoy eating, the chances of following the doctor's recommendations are reduced. Several factors come into play: appetite, the meal environment, and the attractiveness of the food offered. Studies[8] show links between compliance and the environment in which ONSs are taken, but also the energy density of the product. For example, average compliance with ONSs is around 78%, but may drop to 37% in some cases.
Diversity in the ONS offer
To overcome the problem of compliance, manufacturers are working to diversify their offer. The aim is for each patient to be able to find products that they like. This diversification work concerns:
Nutritional content: protein, energy, fiber, lactose-free, etc.
Healthcare professionals can therefore encourage their patients to try new products to find the ones they like. The key to compliance is finding the right product.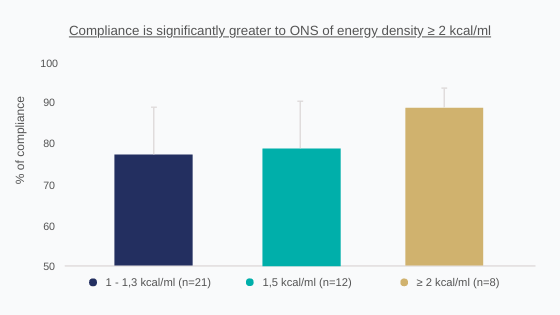 Figure 2 : Compliance and ONS offer [8]
Protein products offered by Lactalis Ingredients
To meet the expectations of professionals and patients, Lactalis Ingredients has developed various ingredients useful for the development of oral nutritional supplements.
Pronativ® – Native Micellar Casein
Micellar caseins are milk proteins rich in casein and calcium. They have the particularity of precipitating at acidic pH, like in the stomach for example. This property slows down their passage through the intestinal barrier and thus allows the assimilation of amino acids to be spread out over approximately 8 hours.
Pronativ® – Native Micellar Casein meets several needs of the ONS market:
Slowing down the assimilation of amino acids: reduction of muscle degradation during fasting periods ;
Stability to heat treatment which facilitates their use ;
Low viscosity: possibility to obtain more nutritionally dense drinks and therefore to reduce volumes without compromising the organoleptic quality. This reduction in volume has a beneficial effect on patient compliance.
Pronativ® – Native Whey Protein
Pronativ® – Native Whey Protein contains unaltered whey proteins extracted by cold filtration. This product is particularly rich in essential amino acids and has a high leucine content. Leucine contributes to protein synthesis. It is therefore ideal to fight against sarcopenia. In addition, the ability of this product to be used in foods with an acidic pH is a real asset for the diversification of ONSs. This opens the way to the development of high-protein gels or clear fruit drinks.
Thus, through its ingredients, Lactalis Ingredients is actively participating in the diversification of the ONS offer and is even more committed to the fight against undernutrition.
Sources :
1. ANSES, 2019. Les protéines. Disponible sur internet : https://www.anses.fr/fr/content/les-prot%C3%A9ines [consulté le 26/03/2021].
2. HAS, 2007. Prise en charge encas de dénutrition protéino-énergétique chez la personne âgée. Disponible sur internet : https://www.has-sante.fr/upload/docs/application/pdf/synthese_denutrition_personnes_agees.pdf [consulté le 26/03/2021].
3. HAS, 2020. Diagnostic de la dénutrition de la personne âgée. Disponible sur internet : https://www.has-sante.fr/upload/docs/application/pdf/2020-03/reco368_cadrage_has_ffn_denutrition_pa_2020_03_19_vpost_coi.pdf [consulté le 26/03/2021].
4. Milne AC1, Potter J, Vivanti A, Avenell A. Protein and energy supplementation in elderly people at risk from malnutrition. Cochrane Database Syst Rev. 2009 Apr 15;(2):CD003288. doi: 10.1002/14651858.CD003288.pub3.
5. Cawood AL1, Elia M, Stratton RJ. Systematic review and meta-analysis of the effects of high protein oral nutritional supplements. Ageing Res Rev. 2012 Apr;11(2):278-96. doi: 10.1016/j.arr.2011.12.008. Epub 2011 Dec 22.
6. Stratton RJ1, Hébuterne X, Elia M. Ageing Res Rev. 2013 Sep;12(4):884-97. doi: 10.1016/j.arr.2013.07.002. Epub 2013 Jul 24. A systematic review and meta-analysis of the impact of oral nutritional supplements on hospital readmissions.
7. Volkert D1, Beck AM2, Cederholm T3, Cruz-Jentoft A4, Goisser S5, Hooper L6, Kiesswetter E7, Maggio M8, Raynaud-Simon A9, Sieber CC10, Sobotka L11, van Asselt D12, Wirth R13, Bischoff SC14. ESPEN guideline on clinical nutrition and hydration in geriatrics. Clin Nutr. 2019 Feb;38(1):10-47. doi: 10.1016/j.clnu.2018.05.024. Epub 2018 Jun 18
8. Hubbard GP, Elia M, Holdoway A, Stratton RJ. A systematic review of compliance to oral nutritional supplements. Clin Nutr. 2012 Jun;31(3):293-312. doi: 10.1016/j.clnu.2011.11.020. Epub 2012 Jan 17. PMID: 22257636.
Share on LinkedIn