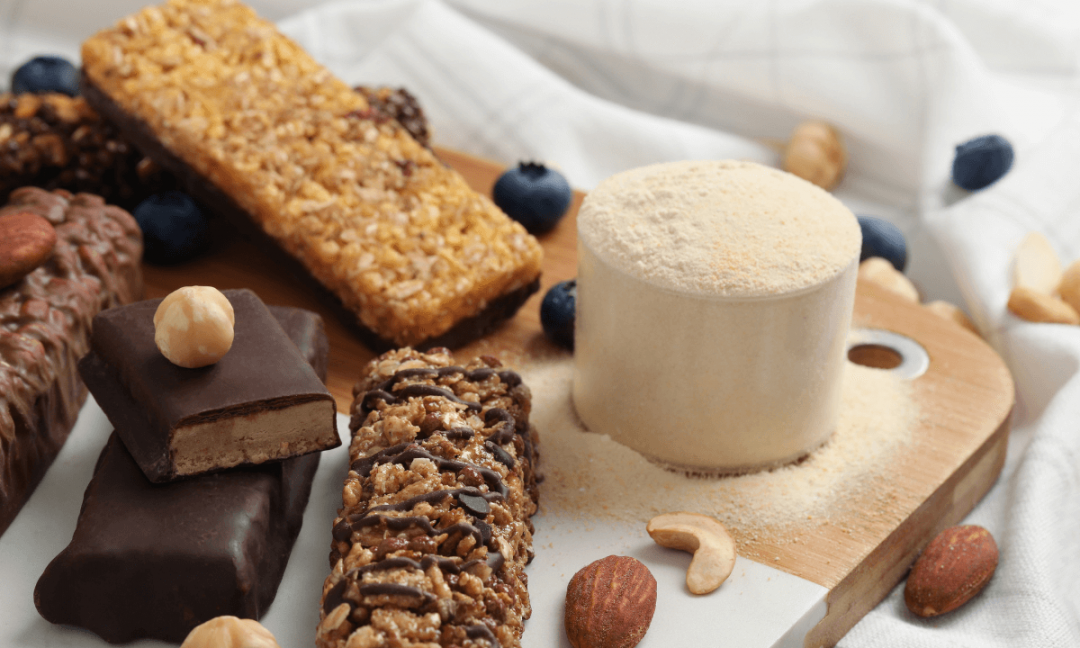 Health and Nutrition
Trends
Snacking in 2023: proteins first
The snacking category includes a wide range of products, both sweet and savory, from the healthiest to the most indulgent. What these products have in common is that they are "ready-to-eat", making them a practical, fast, and mobile source of energy. The growth of this market segment is driven by a diverse range of continually emerging innovations in functional snacking products. In this article, we will focus on protein, a nutrient that is currently trending in the snacking market.
Snacking: a continually growing market
Worldwide, 85% of consumers eat at least one snacking product every day for eating pleasure.[1] This convenient, contemporary way of eating seems to be steadily gaining popularity. In fact, over the past two years, American consumers have tended to replace their three full meals a day with smaller, more frequent snacks.[2] 45% of Americans eat more than 3 snacks a day.[3]
A steady increase in snack consumption has been observed worldwide. In 2021, 56% of consumers ate snack bars at least twice a week (compared to 53% in 2020), while 76% of consumers opted for sweet cookies (compared to 72% in 2020).[1] This market is therefore still growing strongly. This is particularly the case for the European snack bar market, which is expected to reach USD 3.7 billion by 2025 with a CAGR of 4.92%.[4]
56%of consumers ate snack bars at least twice a week
Today, snacking products are consumed to meet the following 4 expectations:
To fulfill a nutritional role
To provide eating pleasure
As a source of distraction
And finally, a more functional role of providing the essential nutrients to optimize sports performance.[5]
A growing appetite for functional snacking
Consumers are increasingly showing a greater awareness of nutrition. They want to combine eating pleasure and health care. Unlike a few years ago, they no longer want to compromise between saving time and their health. More than 40% of American consumers say they want to be healthier, and a majority are looking for a balance between health and eating pleasure.[2]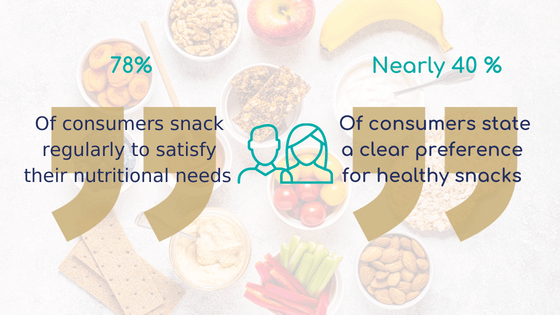 This is the reason why functional snacking has strongly developed in recent years. Globally, 78% of consumers say they snack regularly to satisfy their nutritional needs, an increase of 8% compared to 2021.[1] Furthermore, nearly 40% of consumers state a clear preference for healthy snacks.[6]
To make the right choice among the wide variety of snacking products available, consumers refer to on-pack claims. For example, the claims "natural", "low-calorie" or "high protein" are among those clearly identified as healthy by consumers. Beyond the claims, the presence of certain ingredients or "super-ingredients" (oatmeal, chia seeds, etc.) gives consumers an image of healthy products.
Proteins: an opportunity for healthy snacking
In recent years, increasing consumer interest in health and wellness has driven the growth of protein snacks. Protein content has become a very strong trend and an important purchase criterion in the snacking category, along with taste and naturalness.
But why is protein snacking so successful? Consumers are motivated by various factors. Whether it is simply to boost their daily protein intake, for their satiety effect as part of a weight loss objective or to improve their sports performance, proteins are unanimously considered as a healthy nutrient by consumers.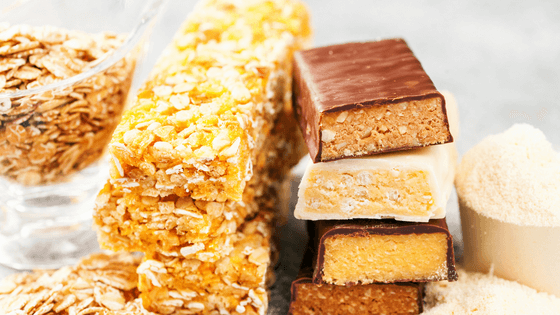 On an industrial scale, proteins are integrated into different matrices to develop protein-enriched snacking products (bars, drinks, etc.). Lactalis Ingredients offers a wide range of dairy ingredients for the development of your functional snacks:
Pronativ® – Native Micellar Casein: a milk protein isolate enriched with micellar casein. Our ingredient can be used in a variety of functional snacking products that can be adapted according to the target, the format, or the matrix. We have developed two new product concepts incorporating our micellar casein: a high-protein pudding (14% protein in the finished product) and a high-protein chocolate-covered ice cream (18% protein in the finished product).
Acid casein dedicated to bars: an ingredient with a high casein content that allows a prolonged release of amino acids during digestion. Thanks to its neutral flavor and granulometry, our casein is ideal for the elaboration of protein-enriched snack bars with a smooth and grain-free texture.
Laktein WPC80 and WPI: a whey protein concentrate and isolate. Because of their composition, these ingredients are particularly well suited to sports nutrition products. For example, we have developed a high-protein chocolate concept (29% protein) using our Laktein WPC 80. Ideal for developing your functional snacking offer.
Pronativ® – Native Whey Protein: derived directly from milk, our native whey protein is pure and natural. This ingredient is naturally rich in essential amino acids including leucine, which is key for muscle synthesis. Our native whey protein can, for example, be used in the design of clear protein water. Discover our 3.6% protein concept.
A project ? Contact us for more information!
Sources:
[1] Mondelez, The third annual State of Snacking (2022)
[2] NielsenIQ, Why many consumers are trading 3 square meals for snacks (2022)
[3] IRI, Snack sensations around the world (2022)
[4] Mordor Intelligence, Marché des snack-bars en Europe – croissance, tendances, impact du covid-19 et prévisions (2022-2027) 2022.
[5] Hartman Group, How Consumers Approach and Think About Snacking Today (2021)
[6] Nielsen Consumer (2022)
Share on LinkedIn